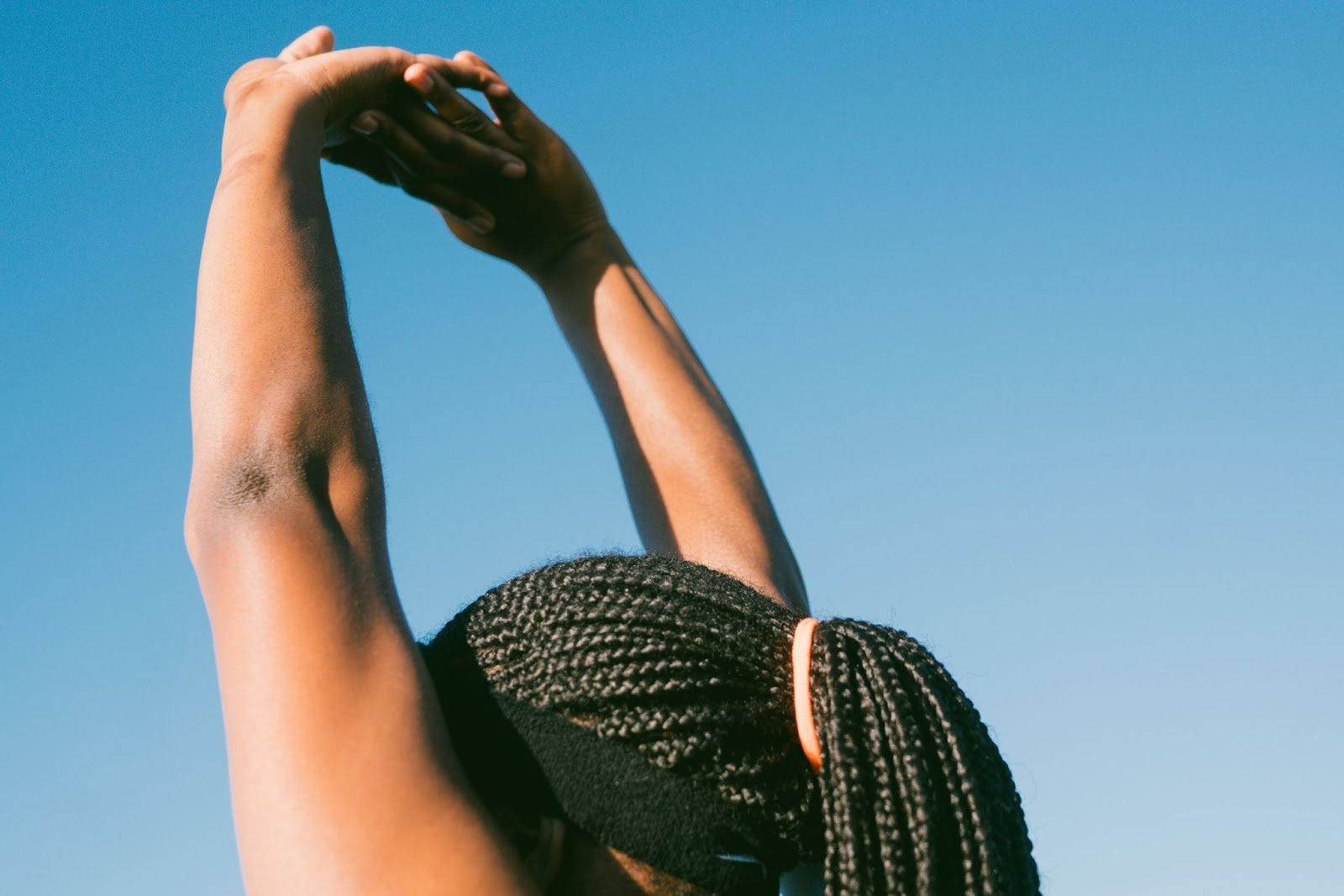 Taking Care of Coarse Hair the Right Way
Hair. We all have it, but are we taking care of it the right way? Maybe you have very fine hair, or maybe you have coarse hair. Maybe you even have something in between. Regardless of your hair type, it's so important to take care of your hair the right way.
Today we're going to explore coarse hair and learn about how to keep your hair feeling smooth, silky, and healthy.
What Is Coarse Hair?
Coarse hair refers to the widest diameter of hair strands, where hair has a thicker circumference than other hair types. Coarse hair is about the diameter, not density.
Dryness is also very common for people with coarse hair, as coarse hair usually needs extra moisture. It is also common for coarse hair to get split ends. Coarse hair also requires more oils to keep it conditioned. 
Here is how to do a simple self-test to see if you have coarse hair: first, pick up one strand of your hair. Rub it around on your fingertips for a few seconds. If you can feel the texture of the hair, this means you probably have coarse hair. If you cannot feel anything, you probably have fine hair. You could also compare your strand of hair to a piece of sewing thread. 
If your hair is thicker than a piece of thread, odds are you have coarse hair. Also, another indicator that you have coarse hair is how long your hair takes to dry. If your hair takes a long time to try, you probably have coarse hair. Whether you have coarse hair or any other type of hair for that matter, it's important to know your hair's needs and how you can keep your hair healthy.
Coarse Hair vs. Thick Hair
Coarse hair and thick hair can often be mistaken for one another. However, thick hair always refers to hair density, aka the number of follicles on the scalp. Coarse hair, on the other hand, refers to the circumference of the individual strands of hair. 
Hair Maintenance
Since coarse hair tends to be the driest texture of hair, it needs a little bit more TLC. Contrary to popular belief, just because your hair is thicker, this doesn't mean you need to do more; it actually means you need to do less. Less is more for coarse hair. 
If you're used to washing your hair every other day, try switching to only washing your hair once or twice a week, max. Also, try using cold water to wash your hair. No, it's not the nicest feeling, but cold water is like the topcoat for your nails. It seals everything in and adds shine to your hair. 
You'll find that by washing your hair less, and by using cold water, your scalp will actually start producing less oil. This will help you to go longer in between washes and allows more manageable hair. 
For products, make sure you are using a professional shampoo, conditioner, and use a hair mask at least once a week. After your shower, use a combination of a leave-in conditioner or a detangler throughout your hair, along with a serum or oil on your mids to ends. 
Then, use a wide-tooth comb to brush the product through. Air drying your hair is best if you can get away with it, but if necessary to blow dry, make sure to use a heat protectant and a lower heat setting to keep your locks feeling healthy in the process. 
Tips for Coarse Hair
Lastly, here are some tips that you can try if you have coarse hair:
Try longer hairstyles that go past your collarbones, to reduce unnecessary fullness.

Add in long layers to take out weight and add movement to your hair.

If you're prone to oily hair, use a dry shampoo at night time on your scalp as a preventative while you sleep, so that it will prevent more oils from producing. This will help to treat the problem before it occurs.

Focus your shampoo on the roots of your hair, and allow the water to flow through to the ends when you rinse.

For conditioner, focus on your mids to ends. Bonus tip: Use a wide-tooth comb in the shower to allow your conditioner to disperse evenly throughout your hair. This uses less product, so you will get more bang for your buck.

If you have coarse and straight hair, look for products that will soften the hair and allow it to breathe.

For curly and coarse hair, look for a product that has more hold, which will amplify and lock in your beautiful curls.
At-Home Styling for Coarse Hair
For styling your coarse hair at home, first, refer to the previous tips about at-home maintenance. This will ensure the most optimal results for styling your hair. The most crucial part of styling your hair with any hot tool is using a salon-quality heat protectant. This will prevent mechanical breakage in the hair, as well as lock in moisture, color, and shine. Ideally, look for a heat protectant that protects up to 450 degrees. 
Tip: To ensure that your heat protectant works, apply some to the back of your hand, and direct the nozzle of your blow dryer to the highest heat on the same spot. If the back of your hand remains cool, then you have an effective heat protectant.
Preferably, keep your hot tool at 330 degrees Fahrenheit, or less, to prevent heat damage. If your hot tool is of professional quality, using a lower temperature will deliver high-quality results without the repercussions of high heat. If you've read this far and you haven't got the hint, less is more. 
To reduce styling time and create the sleekest results, try using a one-and-a-half-inch or two-inch flat iron for straightening or curling your coarse hair. This applies to curling irons as well. A wider flat iron/barrel allows you to get through your hair more efficiently than by using a smaller iron/barrel.
If you like to put your hair up in ponytails or updos, avoid any hair ties that are rubber bands. This will cause unnecessary tension on your hair, which will add stress and will lead to breakage over time. Also, try to avoid wrapping the hair tie around too tightly, as this can cause stress on the hair as well. 
How Do You Make Coarse Hair Soft and Silky?
Is your coarse hair feeling dry or frizzy lately? If you want to help make your coarse hair soft and silky, here are some types of fun, homemade hair masks that you can make at home and apply to your hair:
Oatmeal and milk mask

Aloe vera gel mask

Banana and honey mask

Egg or mayonnaise mask

Yogurt and papaya mask
For coarse hair, the important thing to remember is that your hair needs extra moisture, and it also loses moisture very quickly. Therefore, using hydrating shampoos and thick conditioners in the shower will help add that much-needed moisture. 
Hair Removal for Coarse Body Hair
So far we have mostly been learning about coarse hair on our heads. But what about body hair? Body hair can be coarse as well. In fact, hair grows differently on each area of your body, so even if you have fine hair in one area, you could have coarse hair in another area. Many people often have coarse body hair on their bikini line or in the armpit region. 
There are other ways to get rid of this coarse body hair other than shaving. Our IPL Hair Removal Handset provides lasting hair removal at home. That way, you can skip on shaving, and see a reduction in your hair growth. 
However, shaving is also an option. The best tip for shaving coarse body hair is to shave regularly; this way, the coarse hair is usually short and easier to manage. This will help in preventing razor bumps and ingrown hairs.
Also, men often have coarse facial hair on their beards. When shaving, make sure you don't shave against the grain, as this will help get more use out of the razor blades and will be easier on your hair. 
Be sure to also shave regularly and change your blades often in order to prevent skin irritation.  Always follow up your shave with a gentle shaving gel or aftershave balm. This will help to calm those razor bumps, prevent ingrown hairs, and keep your skin feeling good.
In Conclusion
Now that you're able to identify your hair texture, this will help you to better maintain your luscious locks. Don't overthink what you need to do to take care of your coarse hair. You'll actually find that keeping it simple is best. 
Remember, there can be too much of a good thing. So when taking care of your coarse hair, make sure to do less washing, use cold water, less heat, and use professional products. Also, remember, coarse hair just means the individual hair strands are thick. Just be sure to add some moisture to your coarse hair if it is feeling dry, and your gorgeous hair will thank you!
And when it comes to the coarse hair on your body, KENZZI has the hair removal tips, tricks, and tools you need! 
Sources:
8 Tips For Managing Coarse Hair I Healthline
How to Make Coarse Hair Soft and Silky I MediHealth