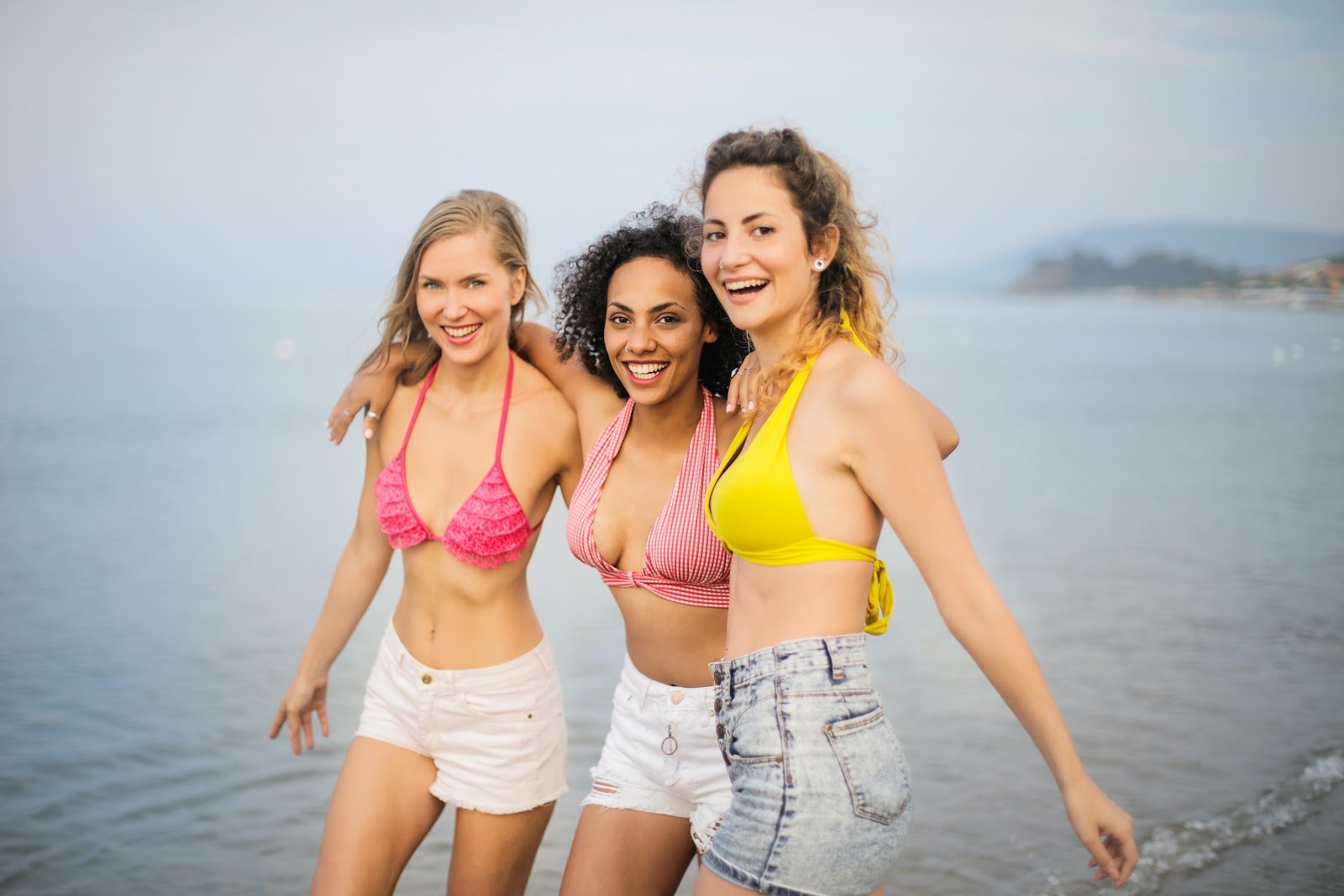 Prep Your Summer Skincare Routine Now: Hair Removal At Home
While summer may feel far off, it isn't. The warmer months are quickly approaching, which means that there is no better time to get your summer skincare routine in line. Whether prepping your summer skincare routine is something you're dreading or something you're looking forward to, there's no better time to do it than now. 
Whether we like to admit it or not, a big part of summer skincare is hair removal. Due to the fact that this used to be a taboo subject, navigating hair removal can be hard. There are mixed reviews about many hair removal methods out there, so it can be confusing and intimidating to seek out the right method for you. So, we at KENZZI want to make things easier for you.
You shouldn't feel intimidated by prepping your summer skincare routine. Rather, you should feel empowered and enlightened to discover the best version of yourself. So, together let's tackle one of the first steps of summer skincare: hair removal.
Methods Of Hair Removal 
Whether you're new to hair removal or you're someone who has been doing it for years, it's nice to know your options. Each hair removal method has its benefits, and it's important for you to find what works the best for you.
The unfortunate thing is that if you've been removing hair for years, you've probably had to learn the hard way what does and definitely does not work for you. However, if you're new to hair removal, it's your lucky day because after reading on, you'll feel more equipped to tackle your hair.
Shaving 
Shaving is a very common method of hair removal. It involves a razor with either one or multiple blades that slice off the hair that is above the surface level of your skin. Accompanying shaving are many different myths, such as the claim that shaving will make your hair grow back quicker, longer, and darker. Typically, your hair grows back the same.
You may feel the need to shave again pretty soon afterward, though, since you're only getting the surface-level hair. However, many people who shave too soon experience something called razor burn. Razor burn is skin irritated by shaving. Normally, people will notice razor burn as red spots or bumps appears on the skin. Often there is a slight discomfort that comes with razor burn as it is known as a form of irritant contact dermatitis.
Waxing
Next up on the list is waxing. If you've ever been waxed before or done it at home yourself, you'll know the pain that comes with the process. The nice thing about waxing is that it typically lasts longer than shaving for the average person as it removes the hair follicle, which takes longer to grow back. It's not without its downsides, though. With waxing comes ingrown hairs, which can be painful and uncomfortable.
Creams 
Our next contenders are hair removal creams. The hair removal when using creams can grow back in the same amount of time that your hair grows back in when shaving. Or it can grow back in a time frame similar to waxing. It really depends on the person. The only catch with hair removal creams is that they can be quite messy and smelly.
IPL 
A new competitor in the hair removal competition is intense pulsed light, otherwise known as IPL. IPL laser hair removal allows you to remove your hair by destroying the follicle. Intense pulsed light laser also has many other benefits. Intense pulsed light treatment helps support hair removal that does not result in razor burn or ingrown hairs.
What Is IPL?
Interested in learning more? We're so glad you asked! Intense pulsed light is a painless method of hair removal that people are loving. Hence why we at KENZZI love it too.
Without any pain or harm, IPL penetrates past your first skin layer and down to the second. When it reaches the second layer of your skin, the intense pulsed light can destroy the hair follicle. Put simply, destroying the hair follicle prevents it from growing back—like, ever. But let's look a little deeper. IPL uses multiple wavelengths to heat the skin to a temperature that destroys the hair follicles without being the individual experiencing pain.
You may be thinking, isn't IPL just laser? No, it is not. The difference between the two is the type of light that each technique uses against your skin.  While laser hair removal uses one wavelength, IPL uses multiple. Additionally, the laser focuses on small and specific areas of the skin. In contrast, IPL takes things a step further by using a broader spectrum of light and therefore covers more skin surface area.
The Advantages of IPL 
There are numerous advantages of IPL, the largest one being that it prevents your hair from growing back. IPL delivers longer-lasting results as it safely and effectively removes hair at the root. Oh, and did we mention how easy, quick, and painless it is?
Another advantage of IPL is the way it promotes even skin tone. Intense pulsed light lets your skin look more firm and supple by shrinking and cleaning your pores. The method of hair removal can also reduce the appearance of wrinkles and fine lines. While this may not be a priority of yours now, it is never too early to start taking care of your skin.
Although IPL doesn't stop there, intense pulsed light can also help you combat other skin-related things. IPL has the ability to support a brighter and more youthful-looking complexion by helping with scarring.
The Price of IPL 
Here's the catch, IPL at a spa or clinic can be extremely high in price. On average, this method of hair removal can cost between $700 and $1,200. On top of this, you typically need to be completing numerous sessions to see long-lasting results. 
But don't worry, we've got you covered! Our IPL Laser Hair Removal Handset is a great option for IPL. This device allows you to do intense pulsed light treatment from your own home for a sliver of the price. The best part is that it is reusable, meaning you can use your spa-like treatment for 10+ years.
Our device has different power levels that are suitable for your skin tone. Our IPL Handset is also fitted with a quality German-made bulb. This supports your IPL hair removal with quartz bulb precision for your safety and the best results.
The IPL Laser Hair Removal Handset hair removal method can produce results in about two weeks. The KENZZI device is designed to show results four times faster than competing products and is ten times more precise.
Introducing IPL Into Your Summer Skincare Routine 
Introducing IPL into your summer skincare routine is much easier than you may think. With our worldwide fast shipping, you can begin to incorporate our IPL Laser Hair Removal Handset into your skincare routine in no time. This means that, yes, you have an excuse to start prepping your overall summer skincare routine.
When introducing the IPL handset into your routine, you are not introducing 20 new steps. In fact, the handset is a one-click function. This makes the handset both easy to maneuver and use. The handset is also beyond approachable, so there is no need to be intimidated. There are no loud or scary noises, which means you can relax and complete your treatment in confidence.
By introducing intense pulsed light treatment to your summer skincare routine, you're not just removing the hair on your legs. Our IPL Hair Removal Handset can be used on any part of your body – including your face and Brazilian area. This means you can cut the awkward encounters with your waxing lady out of your summer skincare routine.
Other Things To Add To Your Summer Skincare Routine 
Another great inclusion to your summer skincare routine is an At Home Microdermabrasion Handset.
Microdermabrasion is a process that supports a youthful and glowing complexion. Microdermabrasion uses diamond-encrusted crystals to exfoliate away the top layer of your skin. Our at-home handset then suctions away this top layer of your skin, leaving it softer and smoother than before.
Like IPL treatment, microdermabrasion helps your skin in the long run. The cosmetic procedure stimulates the skin and promotes blood circulation, accelerating skin tissue development and collagen production. The best part is that this also can be done from the comfort of your own home with our At Home Microdermabrasion Handset.
Your skin and summer glow will thank you later.
Conclusion
Hopefully, by now, you feel equipped to navigate the waters of hair removal that can be choppy at times. Again, with summer fast approaching, there is no better time to start prepping your summer skincare routine, which could very well include our IPL Laser Hair Removal Handset and our At Home Microdermabrasion Handset!
We hope that you feel better equipped to go out and discover your summer skincare routine. Hair removal shouldn't need to be hard to navigate, and it shouldn't be intimidating either. So, know that we are here to help you tackle this task.
Sources:
How to Remove Hair Permanently: What Are Your Options? | Healthline
Remedies for Razor Burn | WebMD