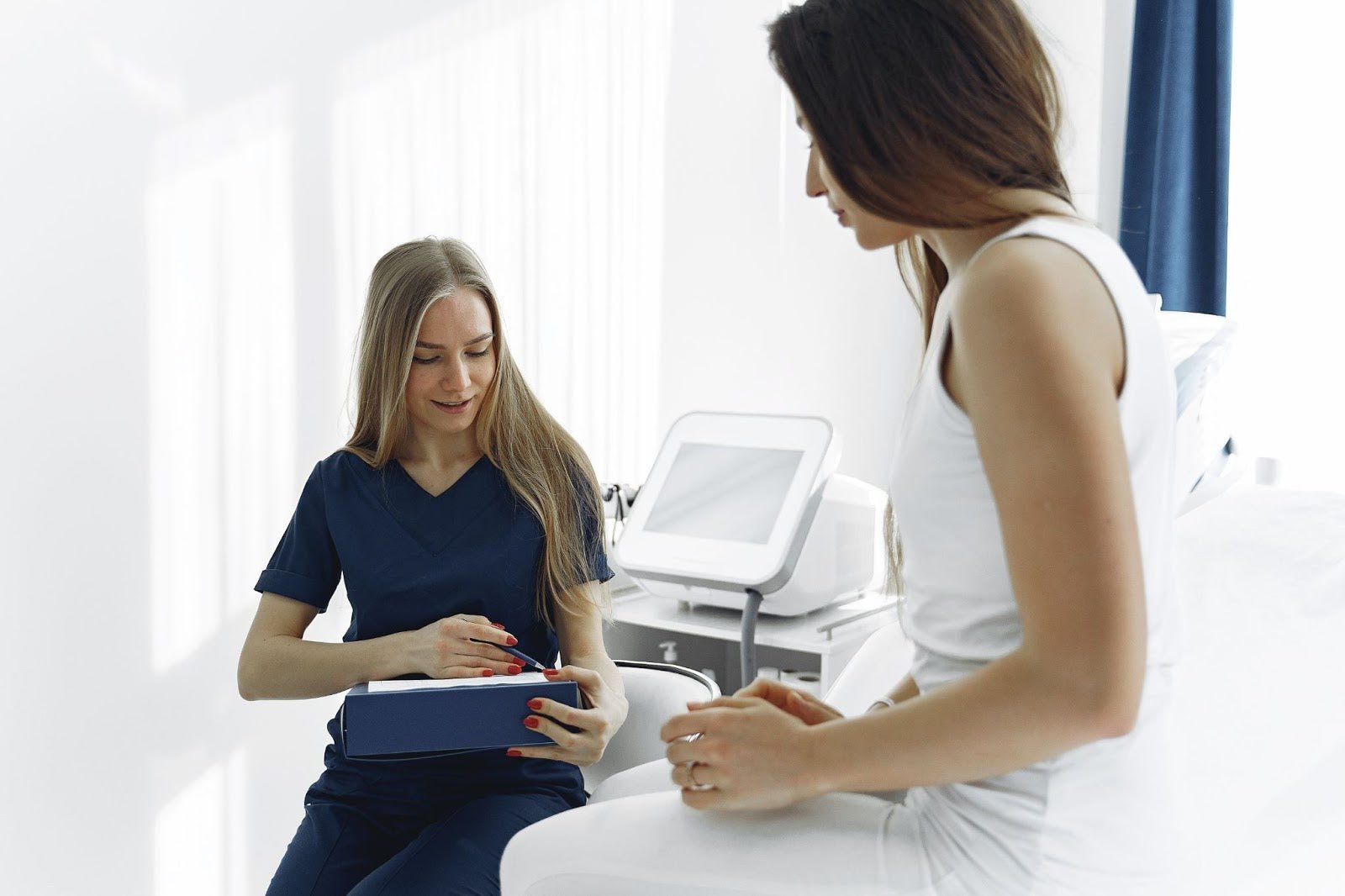 What's The Difference Between Dermabrasion And Microdermabrasion?
Rather than jumping right into dermabrasion or microdermabrasion, it's important to dip your toes into some research to find what's right for you. In our fast-paced world, we know you don't have all of the time in the world to do in-depth research. This is why we've done some for you!
Before you continue reading, you should ask yourself a few simple questions. 
What is it that I am trying to achieve?

How much time do I want to dedicate to this?

What is my budget?

How quickly do I want to see results?

What is my skin type?
It is important to keep in mind what skin type you have. Everyone's skin reacts differently to the treatments and products it is exposed to throughout the day. Jot down your answers, or keep them at the forefront of your mind as you read on about dermabrasion and microdermabrasion. This will help you pick what's best for you without wasting precious, youthful time. 
Dermabrasion
Dermabrasion is a serious exfoliating technique used to reveal new, young-looking skin on your face. Dermabrasion is a way of removing the top layers of your skin. Simultaneously, dermabrasion removes the damaged layers of your skin. By removing these top layers, your skin has room for new skin growth, which results in young and fresh-looking skin. 
People have dermabrasion done for numerous reasons. The procedure can help with fine lines and wrinkles while also helping with acne scarring. Acne scarring is something that many people struggle with and is a leading reason why people aren't always confident in their skin. Dermabrasion is one of many ways to combat acne scarring. 
The extremely exfoliating procedure helps to reduce the appearance of sun damage. While you may have enjoyed spending lots of time in the sun as a child, your body is most likely not enjoying the impacts of those hours spent basking now.
Dermabrasion can even help with age spots and uneven skin complexion. Overall, the procedure helps support a youthful complexion. 
How It Works
Dermabrasion should be done by a professional, such as a dermatologist or plastic surgeon, who has proper training. Your dermatologist will use a handset that helps peel away the top layers of your skin. 
The length of dermabrasion all depends on the surface area that you are interested in covering. For some people, dermabrasion can take up to two hours for one treatment. 
Given that this procedure is more intense than others, the recovery time is longer. While you will walk in and walk out of the office on the same day, your face can take ten to 14 days to recover. During this time, your newly exposed skin may feel itchy, and a crust or film will begin to cover the treated skin. Your skin may also appear to be red, swollen, and slightly agitated; however, this will all reduce as your skin heals.
The Benefits 
Dermabrasion is a great way to show your skin some love. It will support skin that feels and looks smoother. Dermabrasion can help with skin irregularities and impurities.
However, dermabrasion is typically more successful if you have fair skin. The procedure is not as successful for all skin tones, as people with darker skin tones may experience scarring or slight discoloration. 
The Cost 
The price of dermabrasion is dependent on where you are having it done. Although, this procedure is not one that you should scale back on if you're having it done. Since it needs to be done by a professional, the cost can be more than you'd expect. 
In 2019, the average cost of dermabrasion was $1,296. Make sure to remember that this is the price of one session. People often have many sessions done over their lifetime. Given that dermabrasion is considered a cosmetic procedure, many insurance companies don't cover this cost.
Microdermabrasion 
Microdermabrasion is another form of exfoliation. Microdermabrasion is minimally invasive and not as intense as dermabrasion. Similar to dermabrasion, microdermabrasion helps to renew your skin's tone and texture. Microdermabrasion is not as intense as dermabrasion and is gentle and great for all skin tones. One of the best parts about microdermabrasion is that it can be done with a handset from the comfort of your own home. 
How It Works
Our microdermabrasion handset uses diamond-encrusted heads, allowing you to expertly exfoliate and suction away dead skin cells and other impurities. It is important that you eliminate these impurities as they can lead to clogged pores, inflammation, spots, blackheads, acne breakouts, fine lines, and wrinkles.
While some of these things are preventable, others are just parts of living a busy life. Microdermabrasion is a way to help support the fight against impurities and reduce the appearance of dead skin cells and clogged pores.
Microdermabrasion helps to stimulate your skin. This stimulation helps promote your blood circulation and accelerate skin tissue development. It even helps support your collagen production. Given that this microdermabrasion is gentle, you can have this done quite a few times over time to keep up with your youthful-looking skin.
The Benefits
Microdermabrasion helps support the overall appearance of your skin. It promotes an even skin tone, reduces the appearance of wrinkles, supports the fight against acne and reduces acne scars, shrinks and cleans your pores while also helping improve the absorption of your favorite skincare products.
Microdermabrasion is a great way to support youthful-looking skin. It reduces the appearance of wrinkles and fine lines, in addition to sun damages, age spots, and other skin-related impurities. Microdermabrasion is similar to dermabrasion as they target similar skin impurities. 
A big benefit to microdermabrasion is how gentle it is. This means that microdermabrasion is great for people with sensitive skin who still want a youthful and smooth complexion.
The Cost 
Just like dermabrasion, you can have microdermabrasion done by a professional. This will typically cost you between $75 and $300, depending on your location. Like we said with dermabrasion, this is the price of one session. Depending on your goals, you may require quite a few sessions to keep your skin looking as youthful as you desire. People typically go in for five to 20 rounds of microdermabrasion.
It is important to remember that you aren't only paying for the microdermabrasion. You are paying to have it done by a professional in a clean and comfortable place. This is often why microdermabrasion at a salon can cost you a few extra dollars.
While you can have microdermabrasion done by a professional, you can also do it safely and as effectively from the comfort of your own home. The great thing about doing it at home is that you have control over your space. This means you pick the time and place for your microdermabrasion. 
Our at-home microdermabrasion handset comes with a USB charging cord, five replacement filters, and three different tip attachments. The advantage here is that the microdermabrasion handset is reusable and lasts for a long time. This means that you can use the handset time and time again.
Another added benefit to our at-home handset is that you can shop now and pay later with Sezzle. You can have your microdermabrasion handset shipped now and pay in four easy installments later. There's no interest involved either.
In Conclusion 
Now that you understand the basics of dermabrasion and microdermabrasion, you can weigh the pros and cons of the two concerning your goals. 
Debatably the biggest thing to consider is the intensity of the exfoliation you are interested in for your skin. If you want something more intense, we'd say opt for dermabrasion. Dermabrasion is the more dramatic of the two. Given that it is more intense, there are greater risks associated with the procedure. With this being said, if you want something more gentle that you can do over time, then we would recommend microdermabrasion instead. 
Coming in a close second of important things to consider is the price of the procedure. Microdermabrasion won't break the bank as much as dermabrasion will. Especially considering how long at-home sets last, whereas you will need to go see a professional for dermabrasion continuously. 
Another significant thing to consider is how much recovery time you want and how quickly you want to see results. Given that dermabrasion is much more intense and has a longer recovery time, this means that results won't be as noticeable as quickly as they would be with microdermabrasion. 
Overall, both are great ways to give your complexion a helping hand. Finding which one is best for you may require additional research to make more personalized decisions for your skin. Either way, we know you'll be glowing by the end!
Sources: