Skip to product information
IPL PRO + Lady Shaver & Microderm Set
Achieve radiant skin and permanent hair removal at home with the following devices:
KENZZI IPL Pro Handset:
Visible results in 3 weeks
Pain-free, quick 9-minute sessions
High-quality design, easy storage
KENZZI Microdermabrasion Handset:
Gentle exfoliation and pore cleansing
Deep skincare product penetration
Painless and transformative skincare
KENZZI Lady Shaver:
Use as needed for body hair removal
Detailed Shaving and Trimming
Safe and Gentle Shaving
Regular price

$165.00

Sale price

$568.00
Unit price

per
Product Details

Introducing the Kenzzi Beauty Transformation Trio: Elevate your beauty and skincare regimen with the Kenzzi Beauty Transformation Trio, a comprehensive bundle that includes the Kenzzi Microdermabrasion Handset, KENZZI IPL Pro Handset, and the Kenzzi Lady Shaver. This trio is designed to cover all your beauty needs.

Kenzzi Microdermabrasion Handset:

Efficiency Redefined: Transform Your Skin in Minutes
Experience a skincare revolution with the Kenzzi Microdermabrasion Handset:

KENZZI IPL Pro Handset:

Optimal Hair Removal, Minimal Effort
The KENZZI IPL Pro Handset is meticulously designed for optimal results:

Kenzzi Lady Shaver:

Convenient Body Hair Removal
Achieve smooth skin effortlessly with the Kenzzi Lady Shaver.

With the Kenzzi Beauty Transformation Trio, you have the ultimate beauty solution. Elevate your skincare, achieve permanent hair removal, and transform your complexion in the comfort of your own home. Unveil a radiant and youthful glow with this comprehensive beauty trio!

What's Included:

1x Kenzzi Microdermabrasion Handset
3x Replacement Heads
1x Charging Cable
Physical Instruction Manual
1x KENZZI IPL Pro Handset
1x Long Power Adapter
Physical Instruction Manual
1x Kenzzi Lady Shaver
Shipping

Your order is processed in 24 hrs from our warehouses in the United States. You may also select one or two day shipping at checkout.
How it Works

Kenzzi Microdermabrasion Handset: How It Works
The Kenzzi Microdermabrasion Handset works by providing a powerful yet gentle exfoliation process for your skin:

Gentle Exfoliation: The handset uses a diamond exfoliation head to delicately remove the outer layer of dead skin cells, effectively eliminating impurities.
Pore Extraction: Simultaneously, the device incorporates a pore extraction mechanism to clear clogged pores and reduce their visibility, leaving your skin looking and feeling cleaner and smoother.
Efficient Continuous Pulse Mode: The continuous pulse mode accelerates your skin's transformation, ensuring quicker, hassle-free sessions that seamlessly fit into your daily routine.
Large Treatment Head: The handset features a larger treatment head, enabling you to cover more skin surface with each pass, saving you time and ensuring you achieve the glowing results you desire faster.
Comfort Meets Quality: Kenzzi believes in providing a premium skincare experience, so the device is designed for your comfort. It allows you to enjoy top-quality skincare from the convenience of your own home.
Simplified Storage: The charging cord is designed for easy storage, adding an extra layer of convenience to your daily skincare routine.

KENZZI IPL Pro Handset: How It Works
The KENZZI IPL Pro Handset operates through innovative Intense Pulsed Light (IPL) technology for effective and pain-free hair removal:

IPL Technology: The device emits pulses of intense light energy that are absorbed by the pigment in your hair. This damages the hair follicle, reducing hair growth.
Visible Results: In as little as 3 weeks, you'll start to notice visible results as hair becomes finer and less noticeable.
Quick 9-Minute Treatments: The IPL Pro Handset is designed for quick, 9-minute sessions, making hair removal easy and efficient.
Permanent Hair Reduction: Consistent use over a few weeks can lead to permanent hair reduction, eliminating the need for frequent shaving or waxing.
Glide Mode: This mode allows for speedy sessions, especially for larger treatment areas, ensuring a more efficient hair removal process.
High-Quality Design: The ergonomic design ensures comfortable use, and the detachable power cable simplifies storage.

KENZZI Lady Shaver:

Convenient Body Hair Removal
Achieve smooth skin effortlessly with the KENZZI Lady Shaver.

With the Kenzzi Beauty Transformation Trio, you have a complete skincare and hair removal solution. Elevate your beauty routine with these innovative devices, achieving radiant, glowing skin, and effective hair removal from the comfort of your home.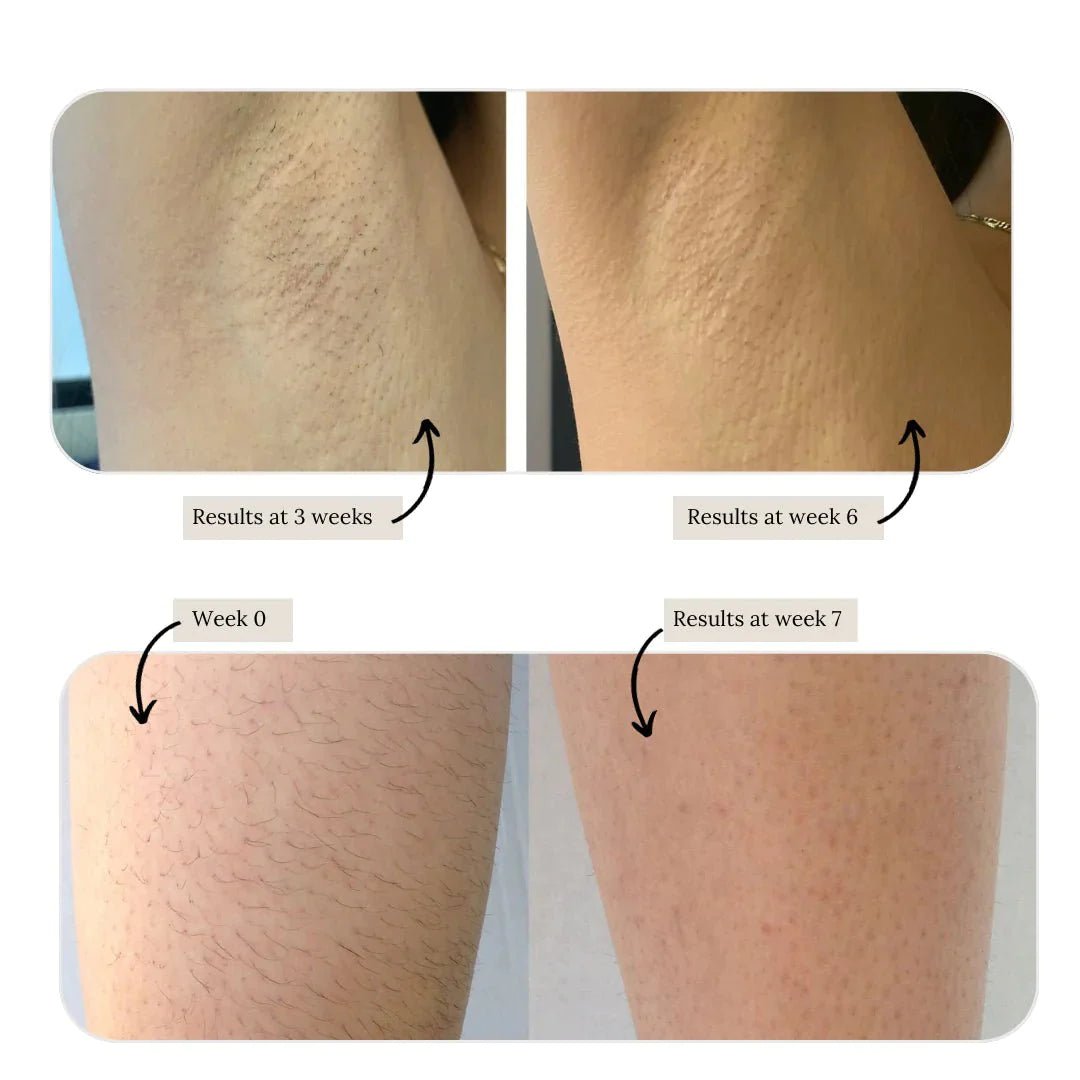 12 Weeks to Smooth Skin
Revolutionize your at-home hair removal routine with the KENZZI Pro Handset. Its state-of-the-art digital display makes tracking and customizing your treatments effortless. Within just 2-3 weeks, expect to see finer hair regrowth and patchier areas in treated regions. Over the subsequent 4-8 weeks, the IPL technology works its magic, making your hair sparser and lighter. By the 12-week milestone, you'll usually enjoy complete hair reduction.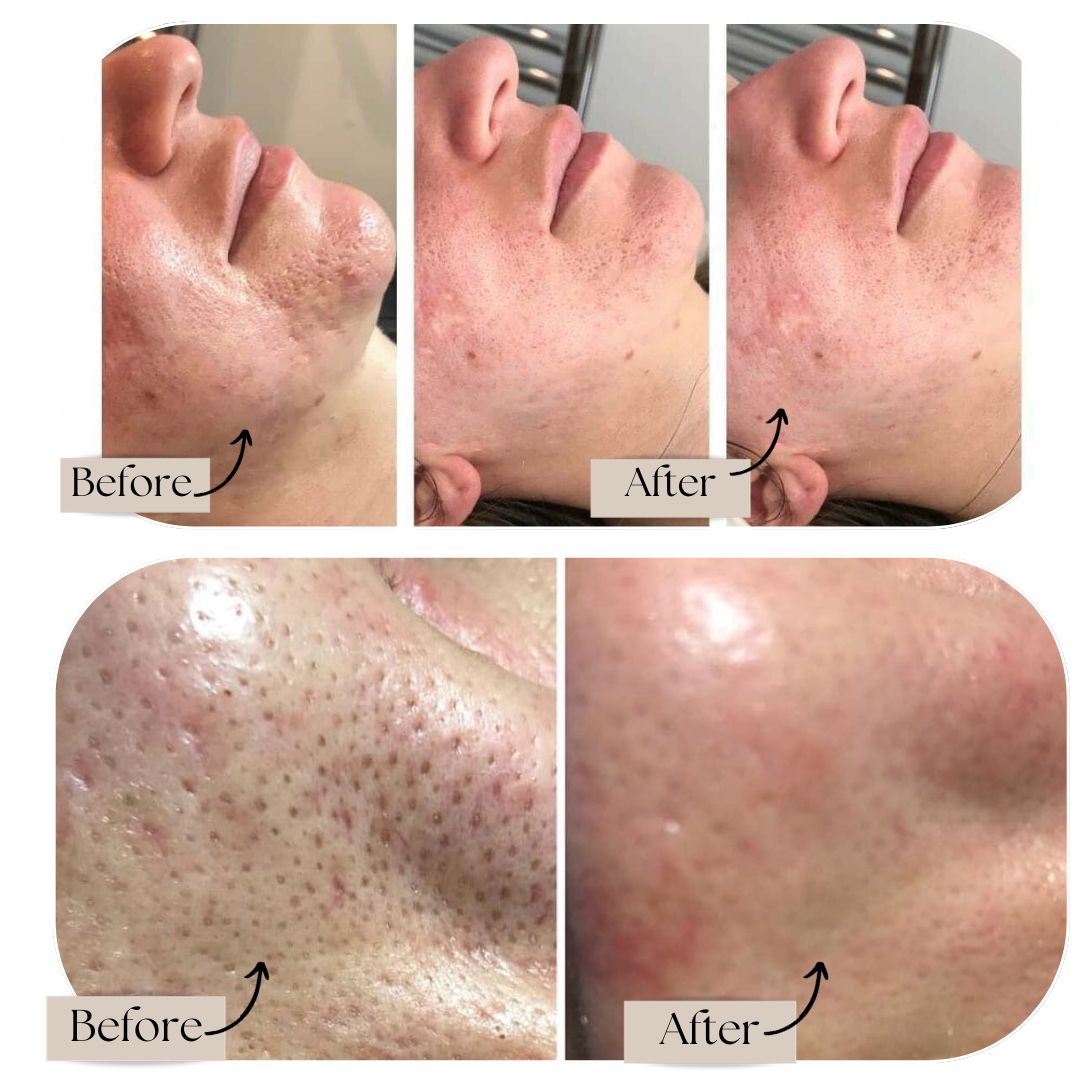 Revitalize Your Skin
Get ready to transform your complexion and experience stunning before-and-after results. From the very first use, you'll feel the immediate difference - say goodbye to rough, uneven skin and hello to a silky-smooth, rejuvenated face.
But that's just the beginning! With consistent use, you'll witness dramatic transformations - fine lines visibly fade, acne scars become a thing of the past, and your skin tone evens out beautifully. It's time to reveal your skin's true potential and achieve that youthful, flawless look you've always dreamed of. Don't wait any longer; supercharge your skincare routine with Kenzzi today! Your skin will thank you.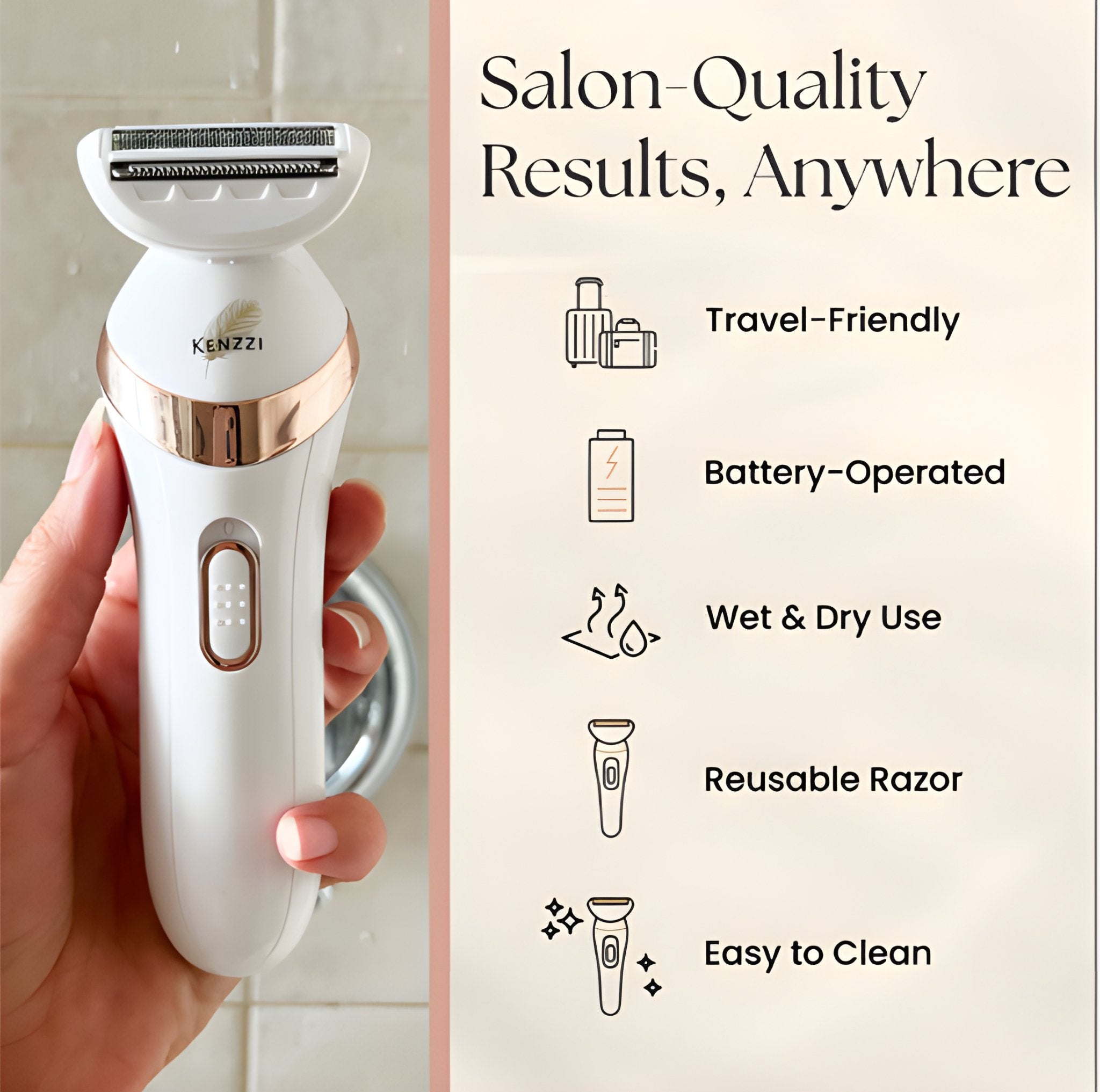 Gentle, Painless Shaving
The Kenzzi 3-Blade Electric Razor combines safety and painless effectiveness for a top-notch grooming experience. Its precision-engineered design ensures a close and smooth shave without the discomfort of nicks and irritation. The triple-blade system effortlessly tackles even stubborn hair, delivering a comfortable and painless shaving experience. With Kenzzi, you can confidently achieve a clean, refined look, knowing that painless effectiveness is at the forefront of your grooming routine.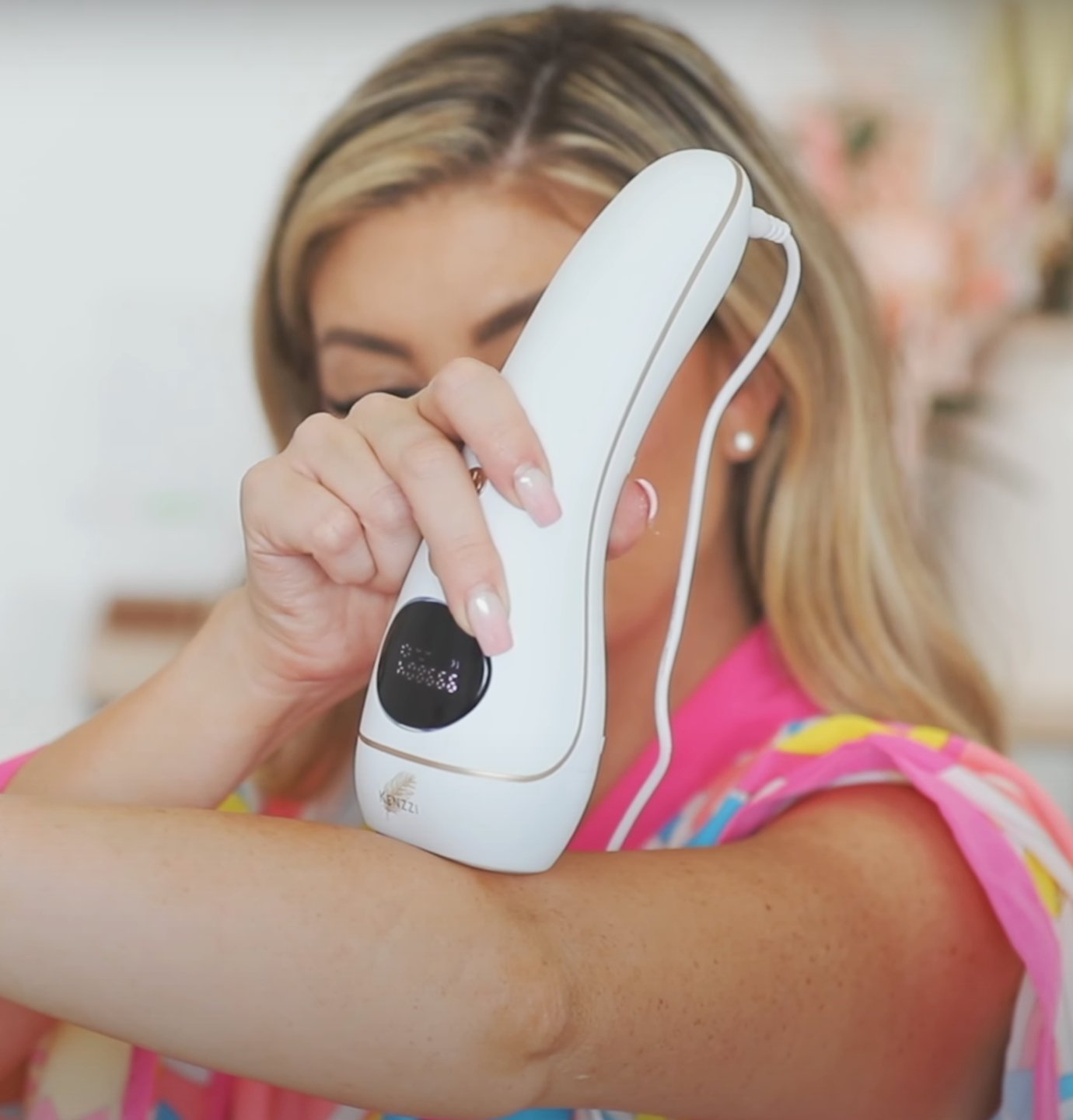 Pro's Digital Display + One Million Flashes
With a remarkable one million flashes, the KENZZI Pro Handset guarantees enduring results. Say farewell to unwanted hair and welcome the convenience and effectiveness of this at-home hair removal solution. No more tedious routines or frequent trips to the salon. The KENZZI Pro Handset not only offers remarkable results but also ensures your comfort during treatments. Reclaim your confidence and indulge in the luxury of silky-smooth skin, all from the comfort of your home. Simplify your beauty routine and revel in the freedom of being hair-free.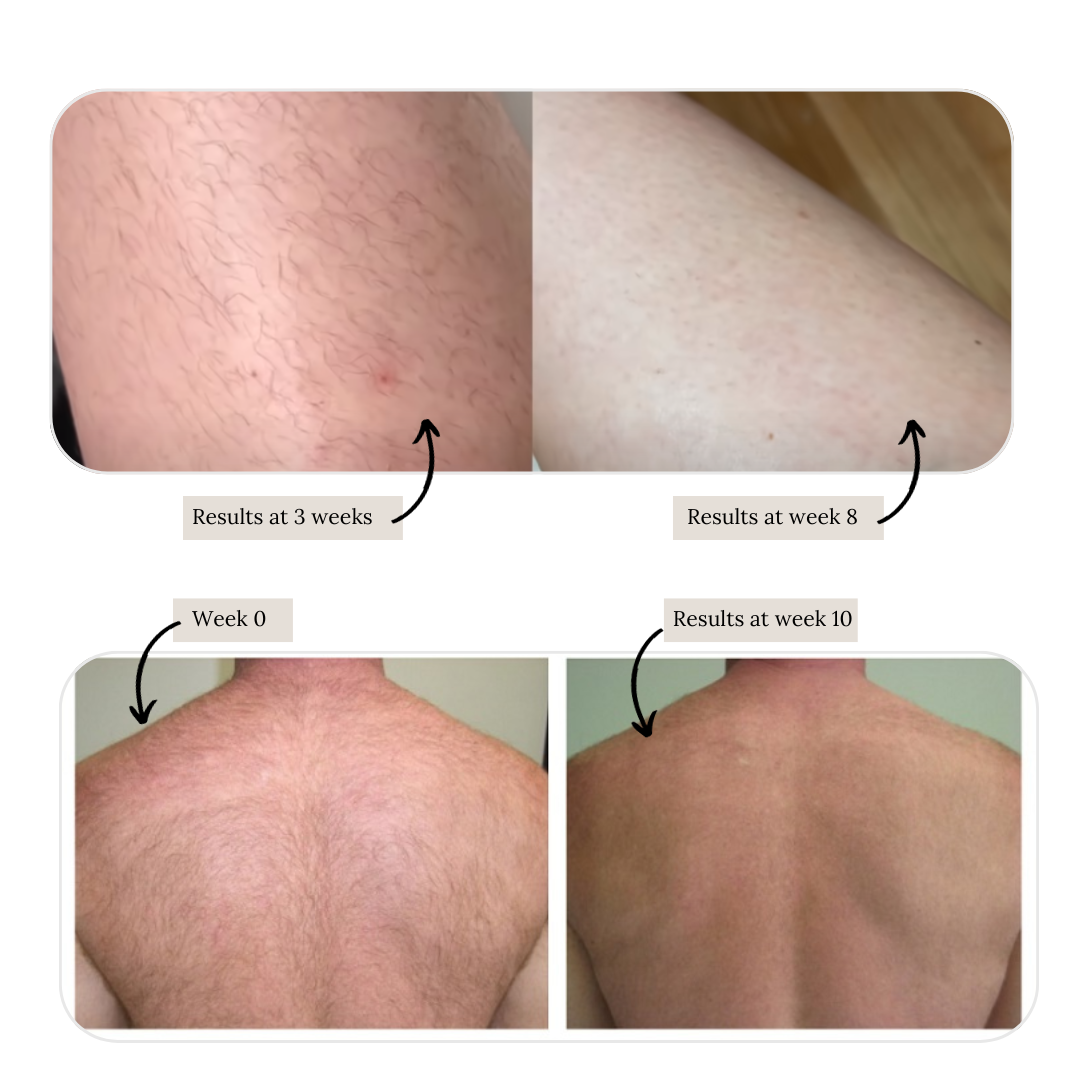 Safe and Proven Hair Removal
The KENZZI Pro Handset goes beyond convenience and effectiveness—it's also an FDA-cleared Class II device, ensuring safety and quality. This certification signifies that the KENZZI Pro Handset has met rigorous standards for both its design and performance. You can trust that your hair removal journey is in expert hands, providing you with not only long-lasting results but also peace of mind knowing you're using a device that meets the highest regulatory standards for safety and efficacy.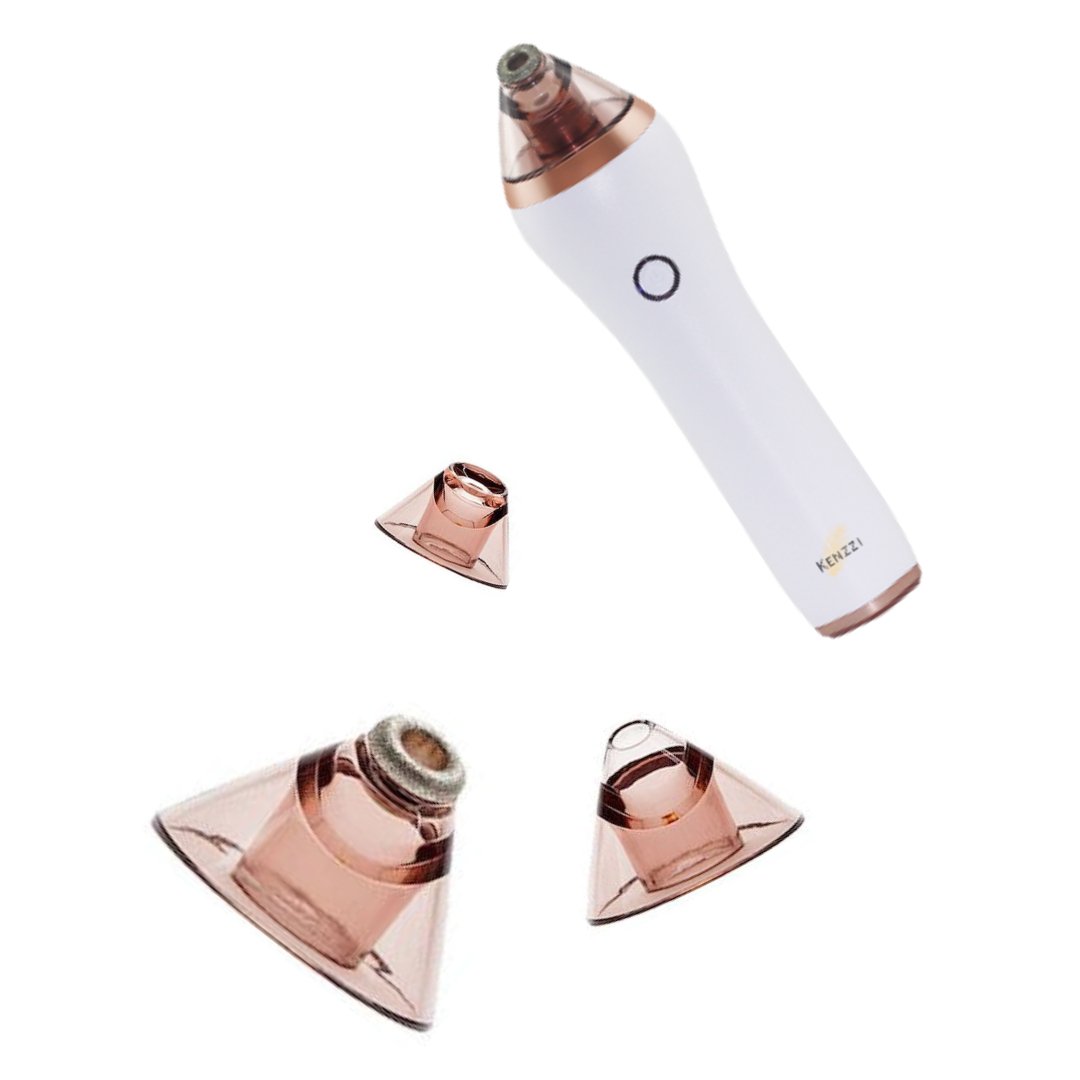 3 Heads for Perfect Skin
Diamond Exfoliation Head: This head gently exfoliates the outer layer of your skin, effectively removing dead skin cells, dirt, and impurities. It's like hitting the reset button for your complexion, leaving your skin instantly smoother and more radiant.
Pore Extraction Head: Say goodbye to stubborn blackheads and clogged pores. The pore extraction head works wonders in clearing out your pores, reducing their appearance, and minimizing the risk of breakouts. Your skin will feel cleaner and more refreshed.
Infusion Head: The infusion head is the secret sauce for that ultimate glow. It helps your skincare products penetrate deeper into your skin, maximizing their effectiveness. This means your serums and moisturizers will work even better, leaving your skin hydrated and nourished.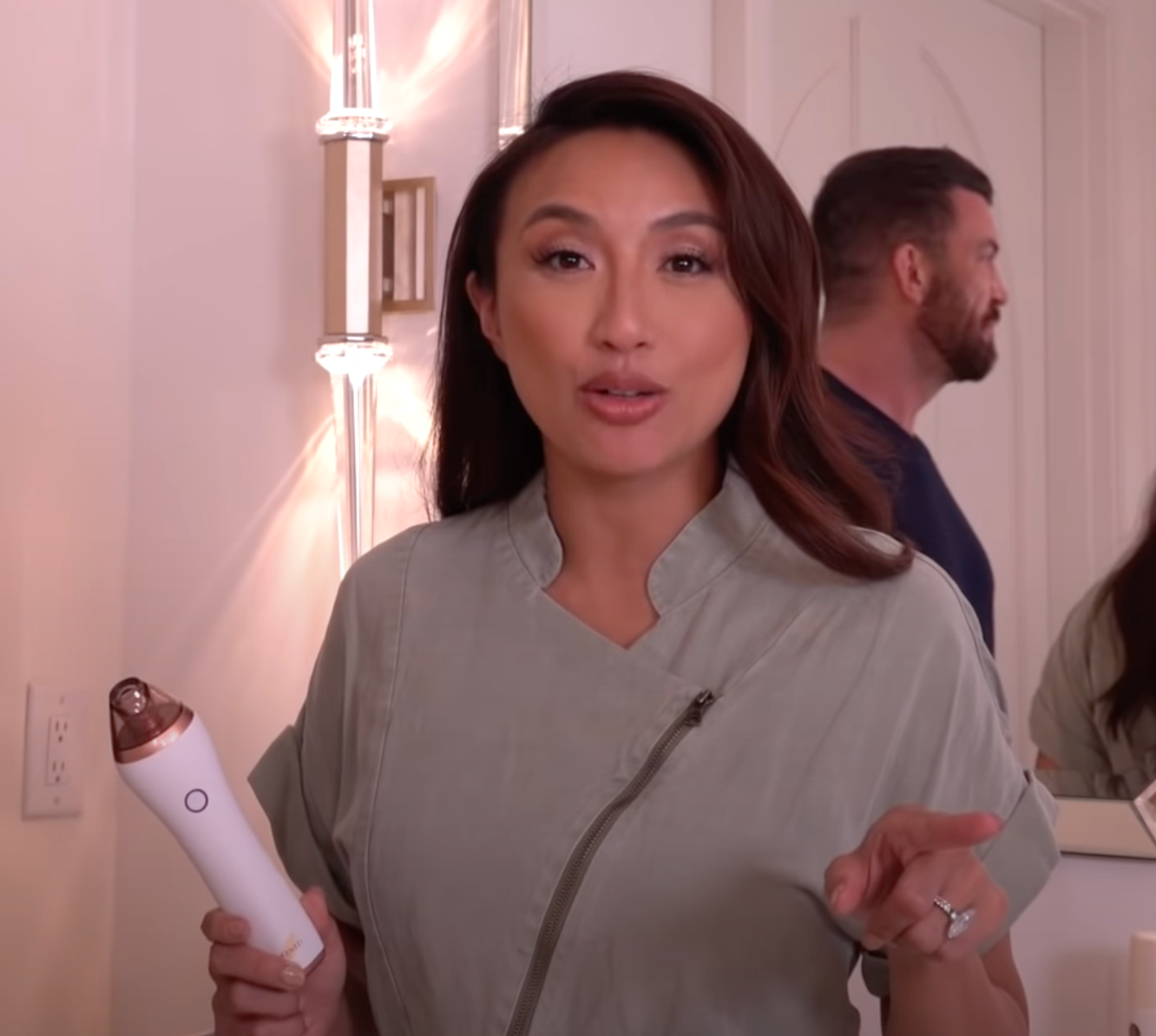 Enhanced Product Absorption
Deeper Penetration: The infusion head creates thousands of tiny microchannels in your skin's surface during the microdermabrasion process. These microchannels act like open pathways, allowing your serums, moisturizers, and other skincare products to penetrate deeper into your skin.
Maximized Effectiveness: When your skincare products can reach the deeper layers of your skin, their active ingredients can work more effectively. This means you'll experience faster and more noticeable results from your favorite serums and creams.
Targeted Treatment: By enhancing product absorption, you can directly target specific skin concerns. Whether it's reducing fine lines, fading dark spots, or hydrating dry patches, your skincare products will be able to do their job with precision.
Economical: With enhanced product absorption, you'll get more value out of your skincare products. You'll need less product to achieve the same or better results, which translates to savings in the long run.