Skip to product information
IPL Pro Hair Removal Handset
Permanently eliminate hair with KENZZI IPL Pro technology.
Fast results within 90 days or less.
Pain-free light-based technology for comfortable treatments.
A 90-Day Money Back Guarantee to ensure your satisfaction.
Quick 9-minute treatment sessions for convenience.
Versatile use - it works on any body part with hair.
Enhanced with a fully digital display for added convenience.
Regular price

$99.00

Sale price

$349.00
Unit price

per
Product Details

The KENZZI IPL Pro Handset is meticulously designed for optimal results. Enjoy the pain-free and highly effective IPL technology that delivers permanent hair removal. Witness visible changes in just 3 weeks, with the possibility of permanent hair reduction in as little as 8 weeks.

Key Features:

Visible Results in 3 Weeks
Pain-free & Effective IPL
Quick 9-Minute Treatments
Permanent Hair Removal
Glide Mode for Speedy Sessions
Large Treatment Mode for Faster Coverage
High-Quality, Ergonomic Design
Detachable Power Cable for Easy Storage

What's in the Box:

1x KENZZI IPL Pro Handset
1x Long Power Adapter
Physical Instruction Manual
Shipping

Your order is processed in 24 hrs from our warehouses in the United States. You may also select one or two day shipping at checkout.
How It Works

Disrupting Hair Regrowth in 12 weeks.
Our advanced IPL technology focuses on melanin in your hair follicles, disrupting their growth cycle. This light-based treatment damages the hair root, progressively preventing future regrowth. Our recommended schedule involves one treatment per week for 12 weeks, with noticeable results typically visible within the initial 3 weeks. Achieve permanent hair removal in as little as 12 weeks with this effective approach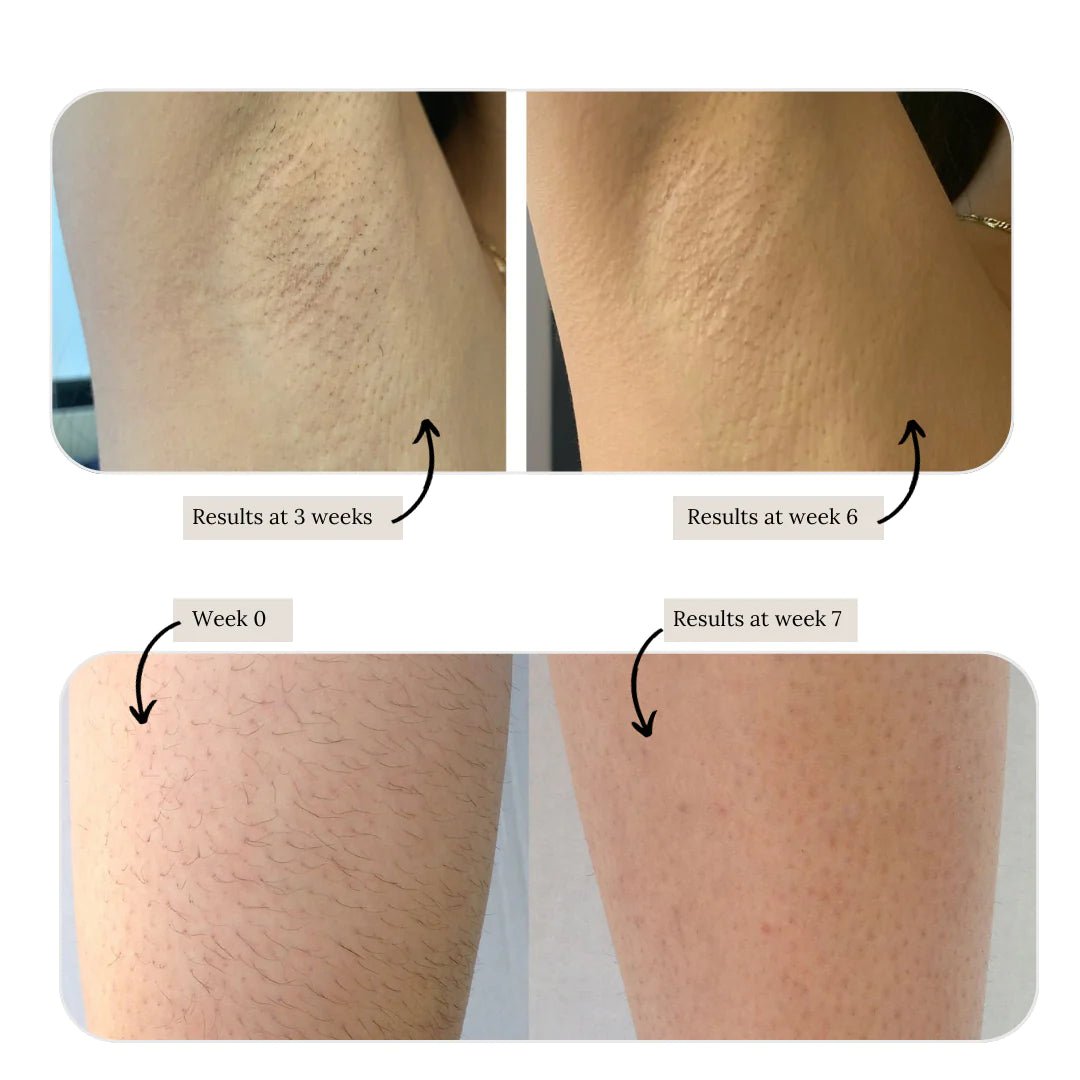 12 Weeks to Smooth Skin
Revolutionize your at-home hair removal routine with the KENZZI Pro Handset. Its state-of-the-art digital display makes tracking and customizing your treatments effortless. Within just 2-3 weeks, expect to see finer hair regrowth and patchier areas in treated regions. Over the subsequent 4-8 weeks, the IPL technology works its magic, making your hair sparser and lighter. By the 12-week milestone, you'll usually enjoy complete hair reduction.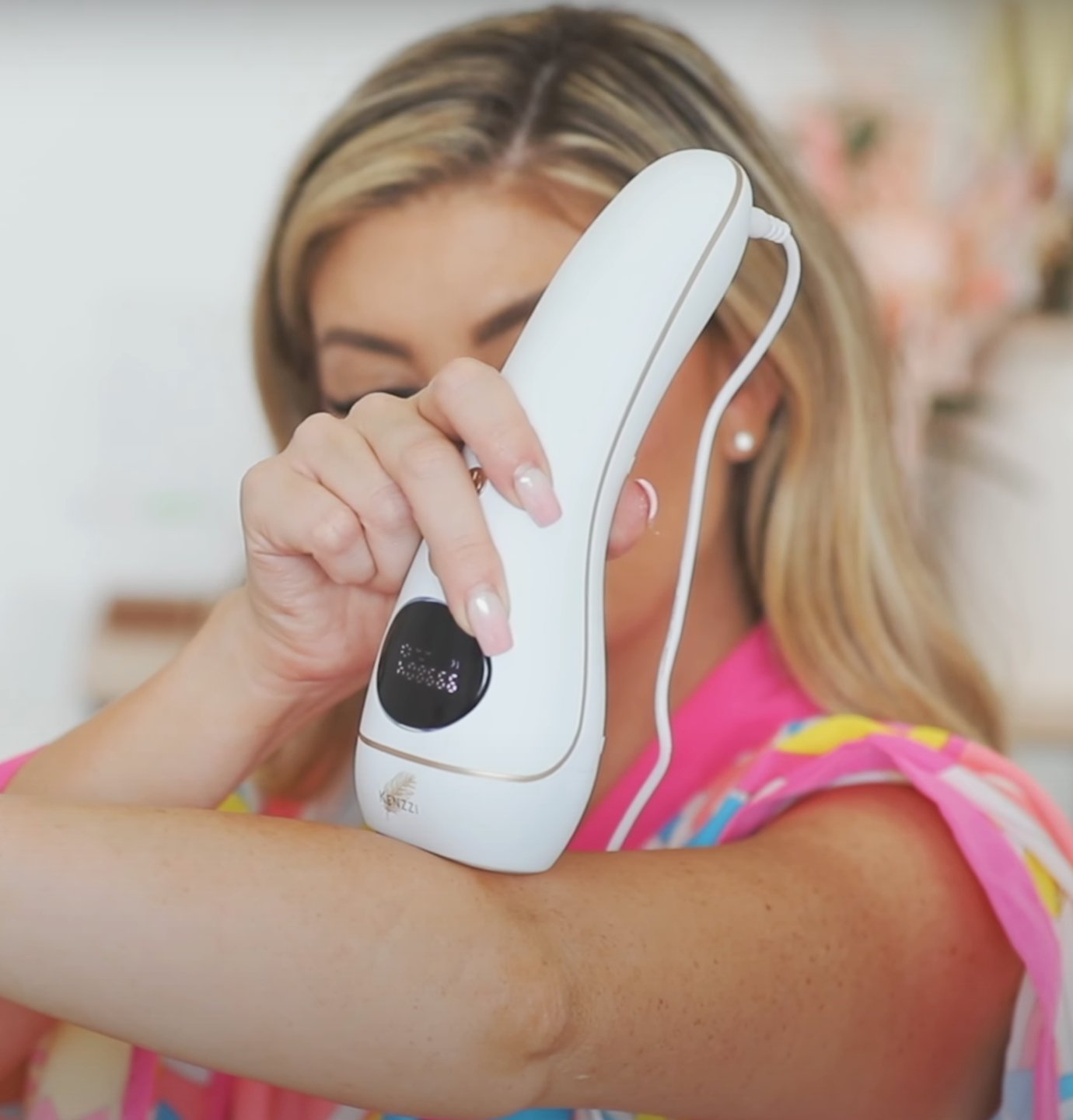 Digital Display + One Million Flashes
With a remarkable one million flashes, the KENZZI Pro Handset guarantees enduring results. Say farewell to unwanted hair and welcome the convenience and effectiveness of this at-home hair removal solution. No more tedious routines or frequent trips to the salon. The KENZZI Pro Handset not only offers remarkable results but also ensures your comfort during treatments. Reclaim your confidence and indulge in the luxury of silky-smooth skin, all from the comfort of your home. Simplify your beauty routine and revel in the freedom of being hair-free.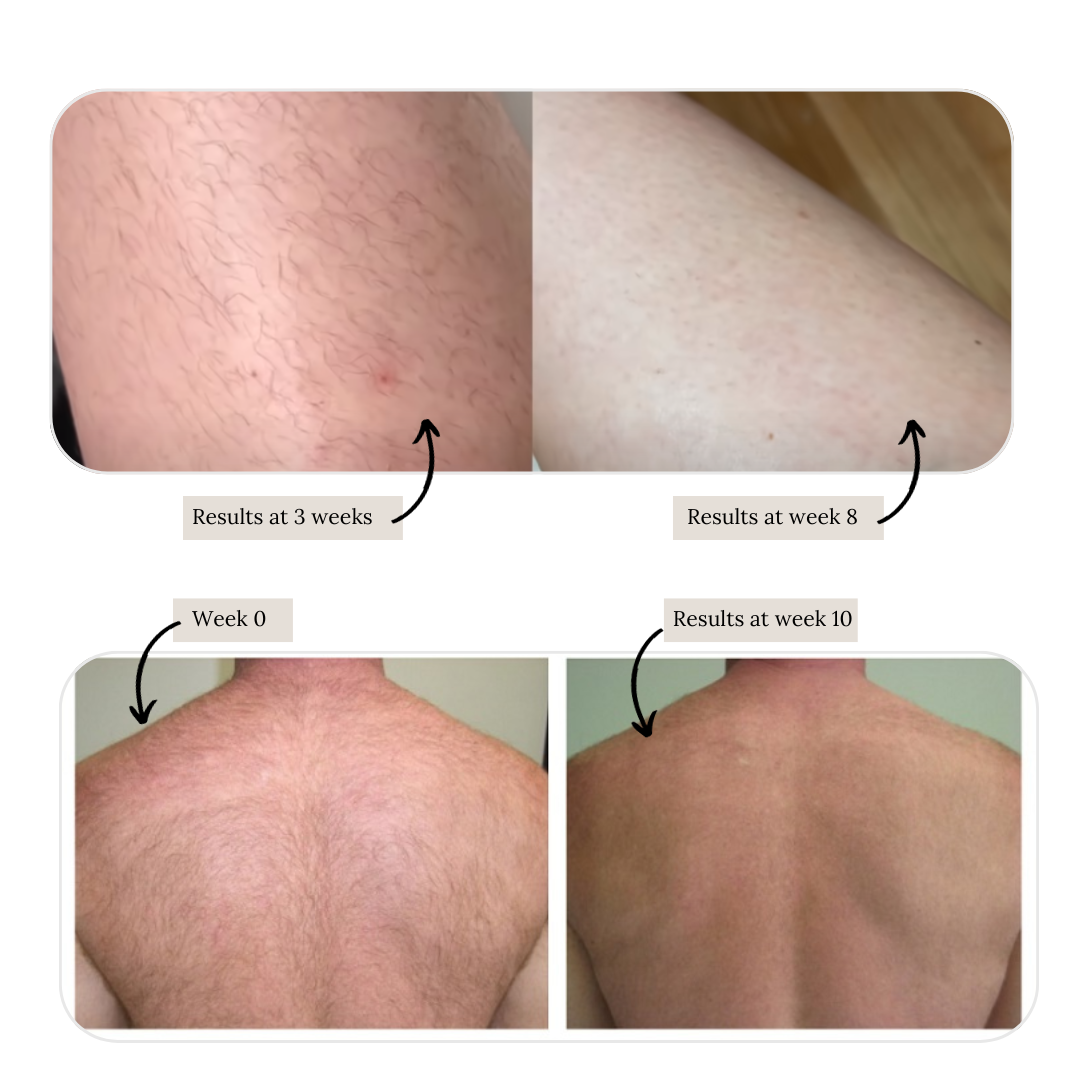 Safe and Proven Hair Removal
The KENZZI Pro Handset goes beyond convenience and effectiveness—it's also an FDA-cleared Class II device, ensuring safety and quality. This certification signifies that the KENZZI Pro Handset has met rigorous standards for both its design and performance. You can trust that your hair removal journey is in expert hands, providing you with not only long-lasting results but also peace of mind knowing you're using a device that meets the highest regulatory standards for safety and efficacy.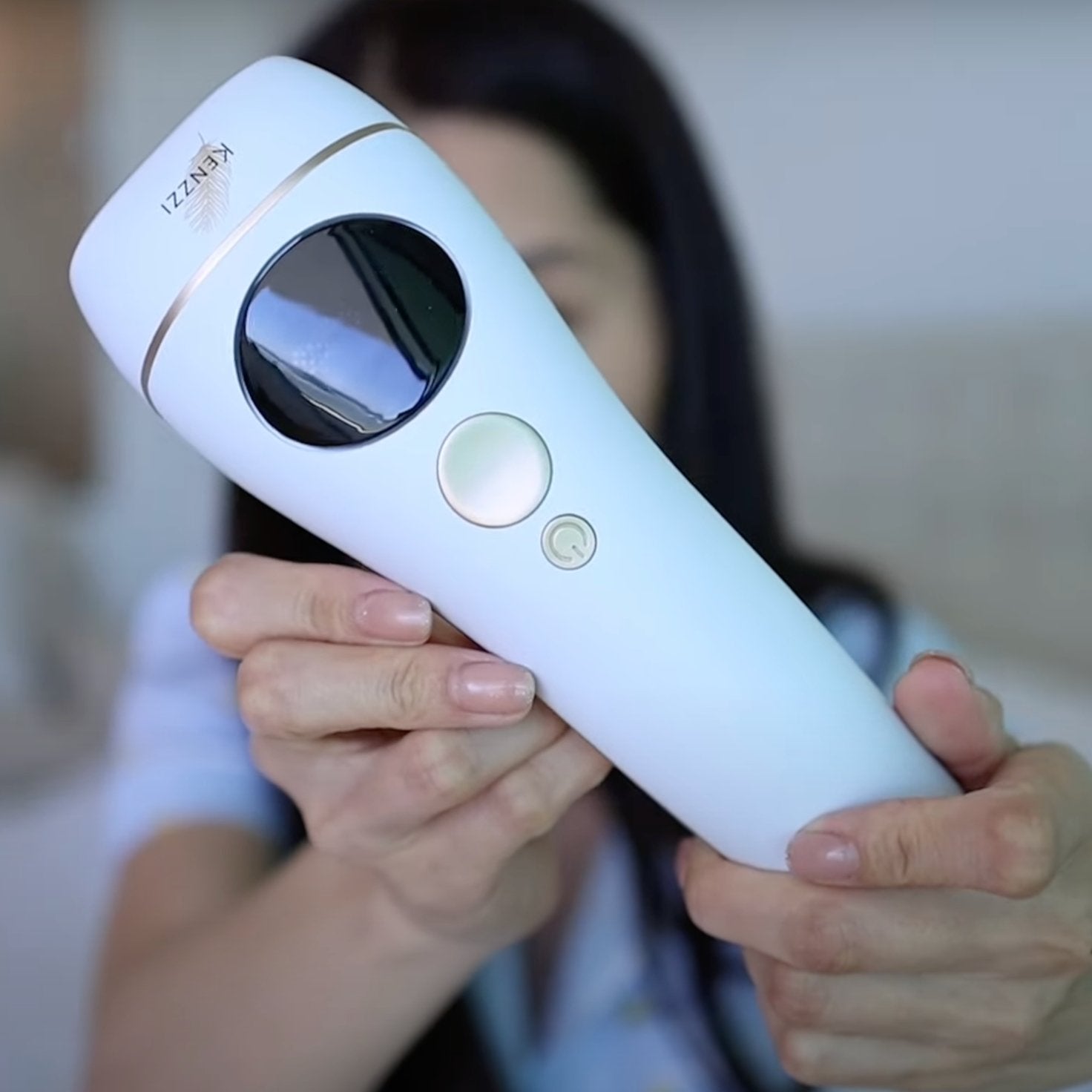 IPL Pro: Glide & Whisper Quiet Technology
The KENZZI IPL Pro redefines the hair removal experience with its innovative features. Thanks to its glide mode, this device offers quick and effortless treatments. Glide mode allows you to smoothly move the handset across your skin, significantly reducing treatment time while ensuring thorough coverage. Additionally, the IPL Pro is equipped with whisper-quiet technology, ensuring a peaceful and discreet hair removal session. You can enjoy the benefits of silky-smooth skin without the distraction of loud, disruptive noises, making the process not only effective but also comfortably serene.
Kristina Braly Pro Review
Embarking on a journey to leave traditional hair removal methods behind? Delve into the realm of KENZZI IPL, widely hailed as the gold standard for hair removal. Kristina Braly, among others, has given her resounding endorsement to the revolutionary KENZZI IPL Pro At-Home Hair Removal Handset. This game-changing solution offers an efficient, effective, and enduring answer to your hair removal needs. Bid farewell to the time-consuming, often inconvenient routine of frequent treatments and welcome an exceptional alternative that paves the path to smooth, hair-free skin. Experience why Kristina Braly and many others trust KENZZI IPL for a life liberated from unwanted hair.
Customer Reviews
Write a Review
Ask a Question
11/23/2021
Manjit K.

Canada
Love love love ❤️
I can't explain how amazing it is,I am an Indian girl so it's really hard for me to stay hairless because the hair grow fast and thick by natural. I had tried wax, shaving , hair removal creams and epilator which hurts the most but then I couldn't do it due to the pain and it gave me those red bumps :( , then I saw kenzzi on social media page ,didn't buy it first I thought it's just a scam but one day I looked all the reviews and ordered it . Started using it on one part of my body to see if really does work or not , I used for like three weeks/ three times and then I started seeing the results and I used on my legs and arms believe me the hairs are gone that's a different thing but the skin got soooooo mush smoother than I ever thought of. So I just think this is a wonderful idea ,I love ❤️ it & I can't explain how much it made my life easier and simple.
06/28/2021
Rumonda B.

United States
KENZZI REMOVAL HANDSET
I must say that I recently purchased the KENZZI REMOVAL HANDSET and it is absolutely the best product for hair removal. I was hesitant about trying the hair removal system but after trying it for four weeks I have already noticed a difference in the hair growth. I'm so glad I decided to give this a try and you will be amazed at the results like I was once you purchase it for yourself trust me.
06/15/2021
Wafa E.

United States
Works like magic
I saw the results from the first use Leg's hair gone Armpits hair gone Arms and brazilian become so thin and almost invisible Highly recommend it
06/14/2021
Jennifer C.

United States
So far so good!
I've been using as directed 1x a week for several weeks now and I'm seeing the results!! I have very coarse dark hair almost black. And it shows under my skin even after I shave and once I get goosebumps the hair is back! Summers for me is usually shaving EVERY morning!! But with using Kenzzi I'm at the point now where I'm only shaving 1x a week before I do my treatments!! My hair grows so much slower and it's not as coarse! I will definitely keep using it weekly and I would definitely recommend to anyone who has to shave their legs daily!! What a game changer!! Thank you Kenzzi!!
12/09/2023
Anna

United States
I never received the lenses that I paid $90 for. Additionally, I found out only after purchase that they weren't compatible with the pro handset even though it says that they're not compatible with any handsetsbefore 2021. The pro handset was purchased after 2021 and therefore should have been compatible by that warning. So not only did I pay for lenses I can't use. I also never received their shipment.  Customer service never solved or refunded the shipping issues even though I paid for express shipping, they say the lenses are nonreturnable, but also never delivered them. I recommend finding a different brand for laser hair removal service.