Skip to product information
KENZZI IPL Hair Removal Handset
Experience Permanent Hair Removal with IPL Technology
• Achieve Visible Results in Only 3 Weeks
• Enjoy Painless Light-Based Technology
• Swift 9-Minute Treatments
• Effective Hair Removal Anywhere on Your Body
• Utilize the Continuous Pulse Mode for Consistent Results
Regular price

$129.00

Sale price

$259.00
Unit price

per
Product Details

Introducing the Kenzzi IPL Handset, meticulously designed to provide you with the best possible results for hair removal. Our advanced IPL technology offers a permanent solution for unwanted hair, making your hair removal routine more effective and convenient. Expect visible improvements within just three week*, with the full transformation occurring in as little as twelve weeks.

Benefits at a Glance:

Quick 9-Minute Treatments: Kenzzi IPL Handset is all about efficiency, ensuring that even with your busy schedule, you can easily incorporate these short treatments into your daily routine.
Continuous Pulse Mode: Accelerate your treatments with continuous pulse mode for quicker, hassle-free sessions.
Large Treatment Mode: Cover more areas with each treatment, saving you time while achieving the results you desire.
High-Quality, Ergonomic Design: Kenzzi IPL Handset is not only effective but also comfortable to use, providing a premium experience in the convenience of your own home.
Detachable Power Cable: Designed for easy storage and added convenience in your daily routine.

What's Included:

1x Kenzzi IPL Handset
1x 9ft Long Power Adapter
Physical Instruction Manual

Kenzzi IPL Handset is your passport to hair-free, smooth, and radiant skin. Experience the transformation you've been looking for with a solution designed to elevate your beauty and well-being.

*Results are based on the use of the IPL Handset for hair removal. Individual results may vary.
Shipping

Your order is processed in 24 hrs from our warehouses in the United States. You may also select one or two day shipping at checkout.
How It Works

Disrupting Hair Regrowth in 12 weeks.
Our advanced IPL technology focuses on melanin in your hair follicles, disrupting their growth cycle. This light-based treatment damages the hair root, progressively preventing future regrowth. Our recommended schedule involves one treatment per week for 12 weeks, with noticeable results typically visible within the initial 3 weeks. Achieve permanent hair removal in as little as 12 weeks with this effective approach

KENZZI Specs:

Energy Level: 6.4 - 12.7J/cm2
Wavelength: 470 - 1100 nm
Pulse width: 15 ms 

FEW THINGS TO NOTE:
Individual outcomes may exhibit variability. It is advisable to schedule maintenance sessions at intervals of 1 to 2 months, as deemed necessary. It should be noted that around 3% of individuals utilizing IPL may not respond to the treatment and may not experience discernible results.
ext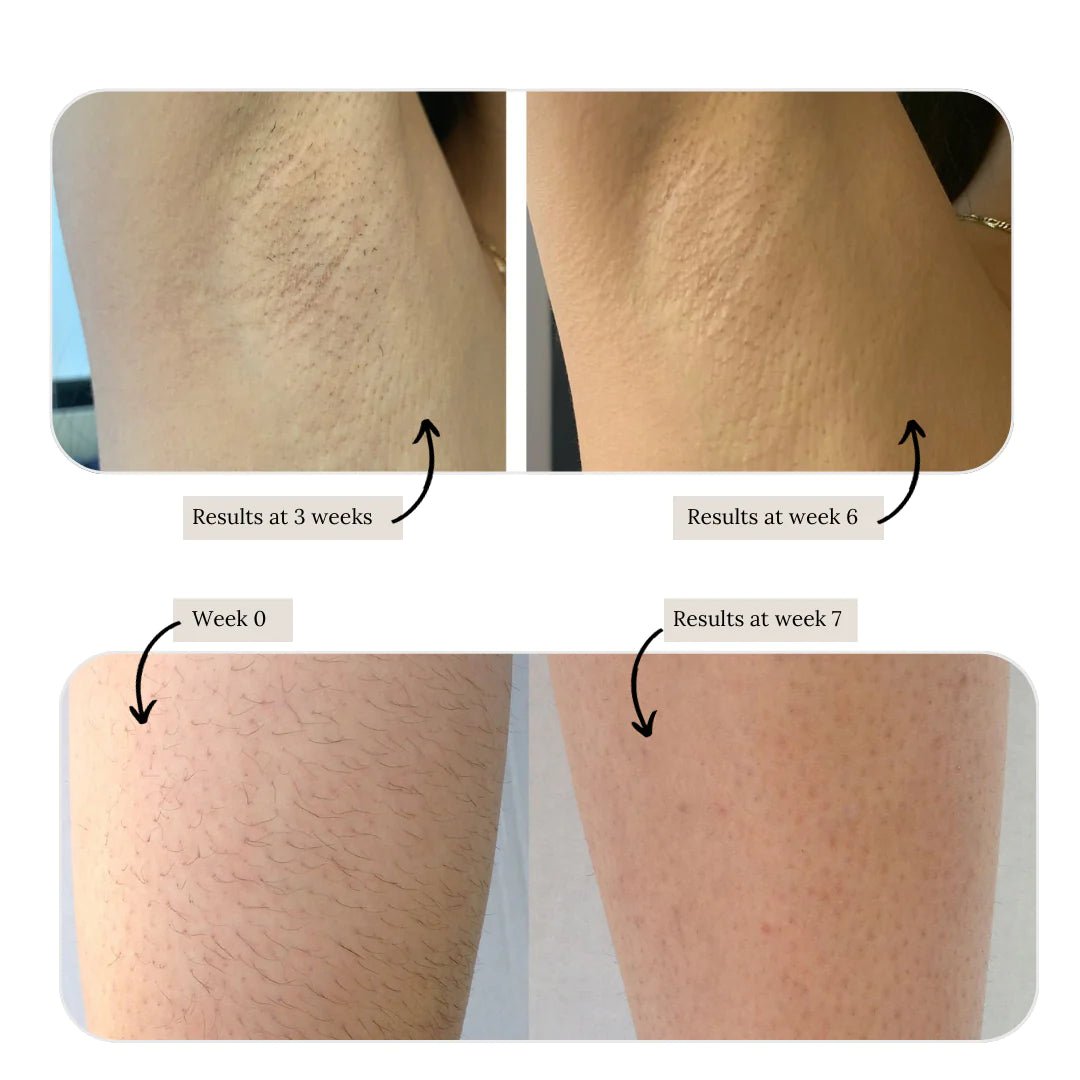 Your Journey to Smoother, Hair-Free Skin
Our at-home hair removal device is designed for gradual, noticeable results over a 12-week journey. In just 2-3 weeks, you'll start to observe finer hair regrowth and patchier areas in treated regions. As our IPL technology disrupts hair follicles, you'll notice hair becoming sparser and lighter in the following 4-8 weeks. By the 12-week mark, most users achieve full hair reduction. Discover the convenience and confidence of Kenzzi, as we help you on your path to smoother, hair-free skin.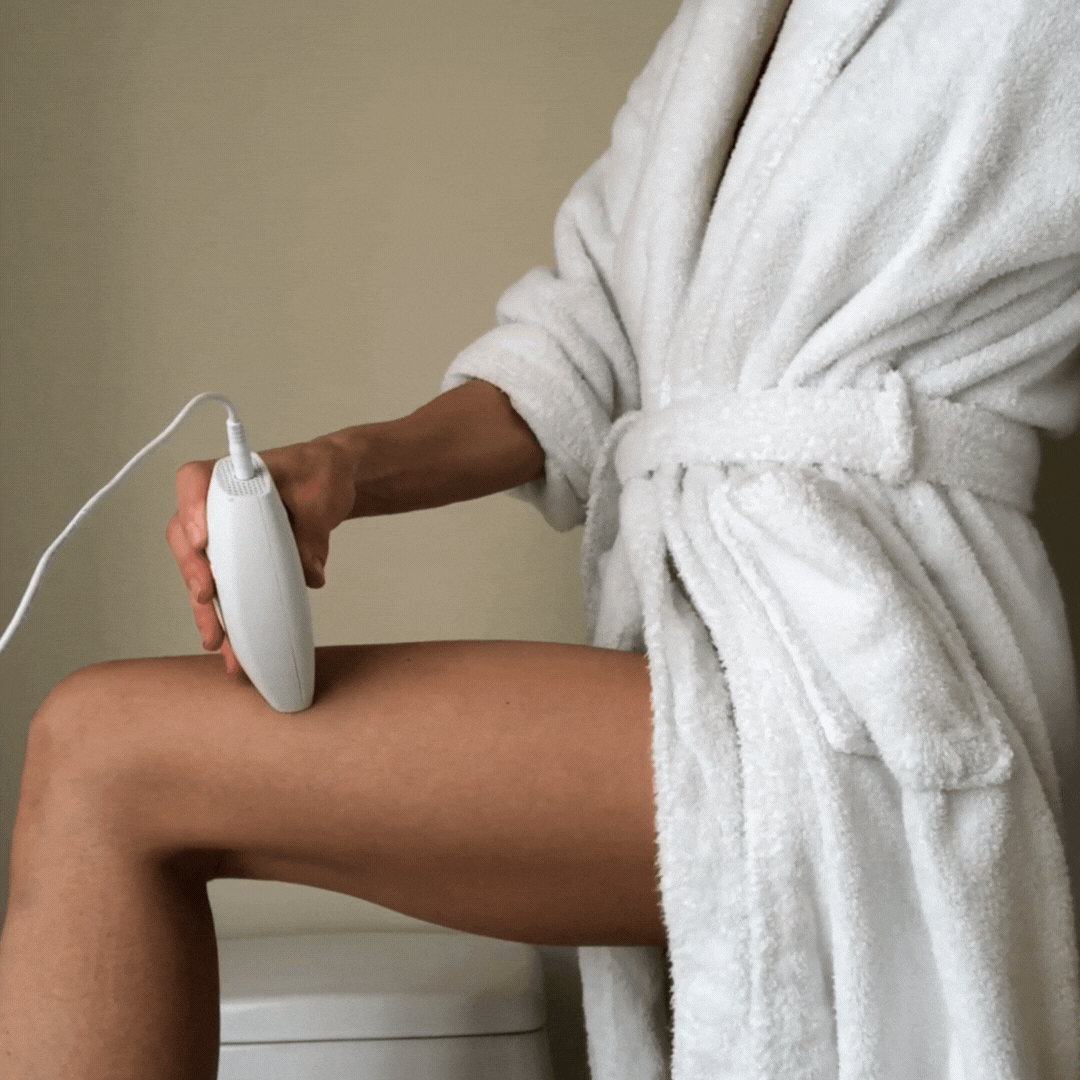 Quick 9 Minute* Treatments
The KENZZI Auto Pulse function revolutionizes your hair removal routine. With this feature, you can cover areas from your back to your bikini line in a mere 9 minutes*, delivering swift and efficient hair removal. KENZZI's advanced technology streamlines the process, allowing you to reclaim your schedule and enjoy your favorite pursuits while still achieving effective and long-lasting hair removal results.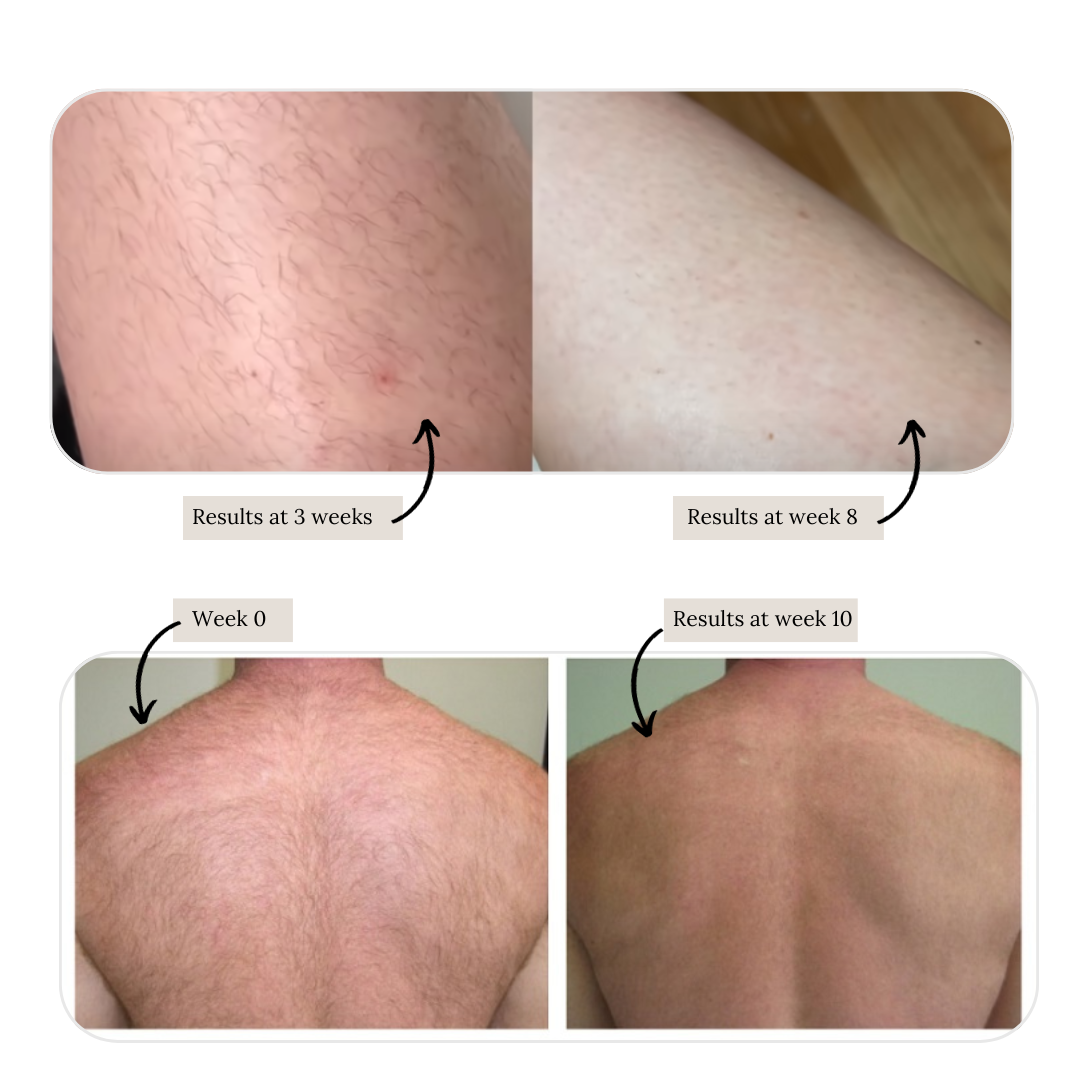 FDA-Cleared IPL: Safe & Effective
The KENZZI IPL Handset represents a remarkable breakthrough in at-home hair removal. It boasts a prestigious FDA-cleared Class II medical device status, a distinction earned through the most stringent and comprehensive standards. This designation assures users that our IPL technology is both exceptionally safe for the skin and profoundly effective in achieving permanent hair removal. The FDA's thorough evaluation underscores the handset's commitment to excellence, offering users a trusted and reliable solution for their hair removal needs.
Three Sensitivity Modes for Pain-Free Treatments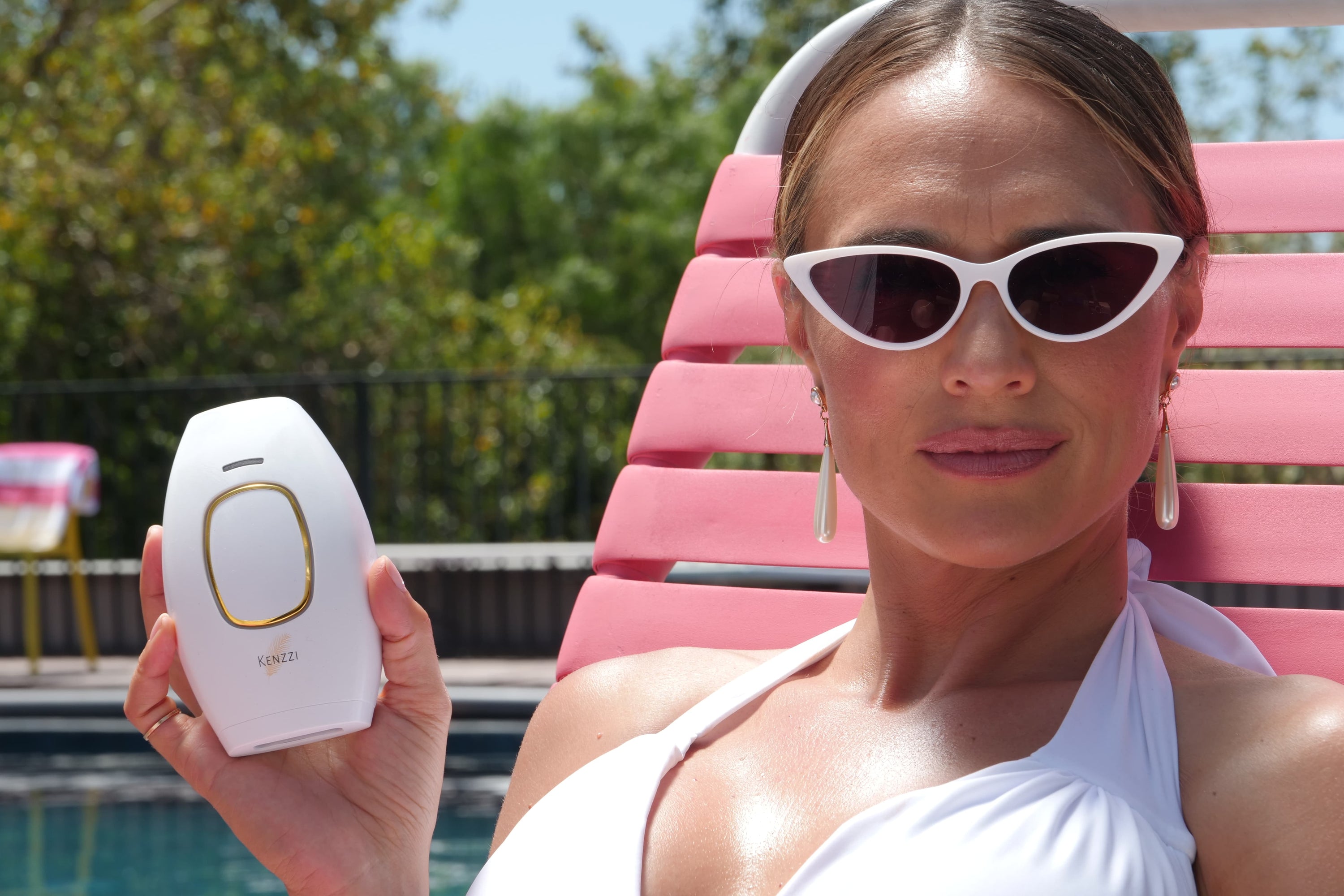 Safer, More Powerful Technology
The KENZZI IPL Handset boasts a powerful and safe Professional Grade Quartz Bulb, setting it apart from the rest. This innovative bulb not only delivers superior results but also ensures your safety during the hair removal process. Experience efficient and long-lasting hair reduction with the KENZZI IPL Handset, knowing that its advanced bulb technology is designed to provide both power and peace of mind.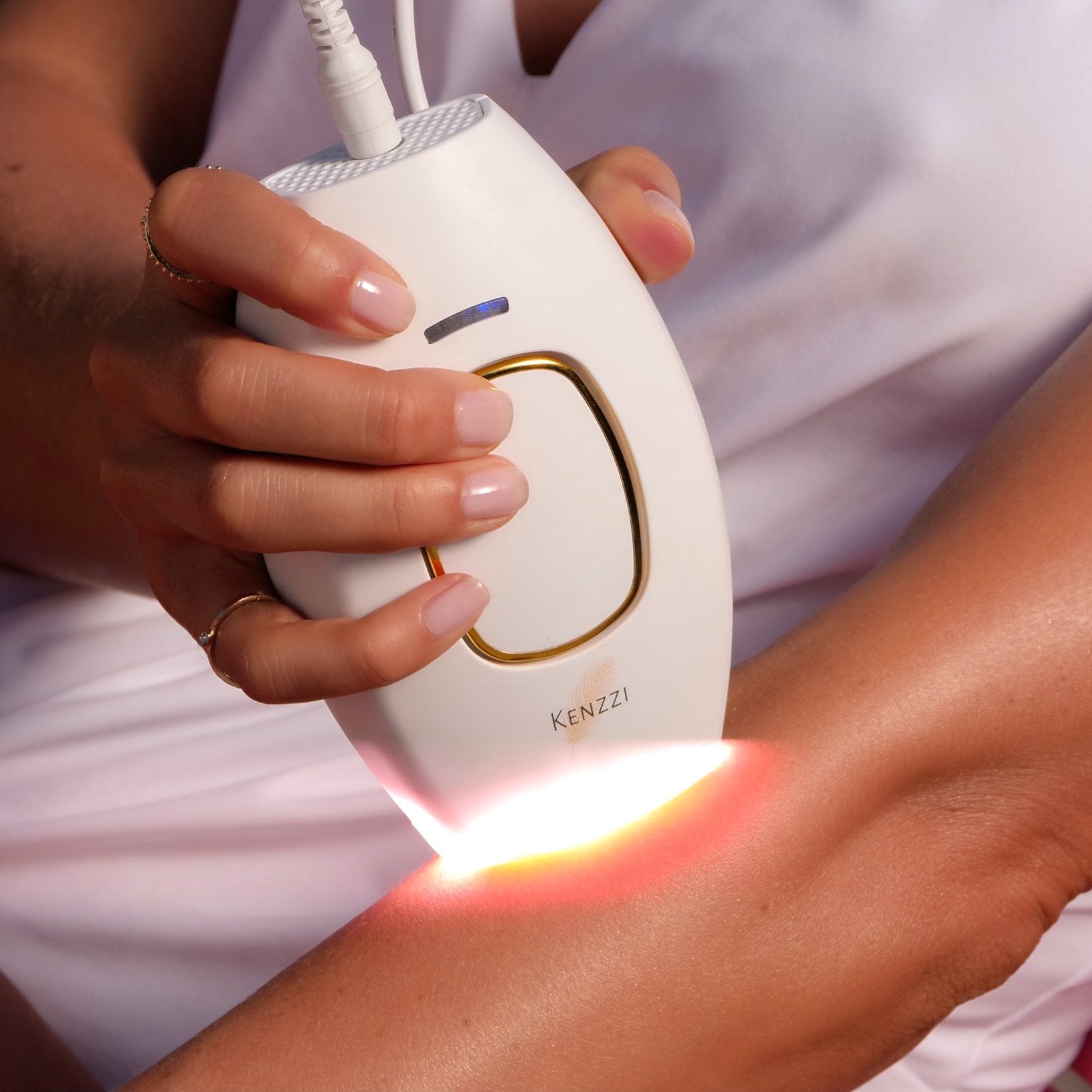 Superior IPL Innovation at Your Fingertips
This revolutionary device is not just another run-of-the-mill option. With a 15ms flash duration, it outperforms its competitor sixfold, ensuring unparalleled effectiveness in hair removal and skin rejuvenation.
Don't wait any longer to experience the silky-smooth skin and flawless complexion you've always dreamed of. Kenzzi's longer pulse duration not only guarantees superior results but also prioritizes your skin's safety. Act fast and unlock the secret to radiant, hair-free skin with Kenzzi!
Tammy's Ageless Beauty Endorses KENZZI IPL
Beginning a journey to part ways with traditional hair removal methods? Welcome to the realm of KENZZI IPL, esteemed as the gold standard in hair removal. Tammy's Ageless Beauty, alongside other notable influencers, passionately supports the groundbreaking KENZZI IPL At-Home Hair Removal Handset. This transformative solution offers an efficient, effective, and enduring answer to your hair removal needs. Bid adieu to the often laborious and time-consuming process of frequent treatments and embrace a remarkable alternative leading to silky, hair-free skin. Discover why Tammy's Ageless Beauty and many others entrust KENZZI IPL for a life liberated from unwanted hair.
Is the KENZZI IPL Handset safe for all hair and skin types?

IPL treatment primarily targets melanin in the hair for effective results, which means that very light blonde, red, or grey hair may not respond well to IPL. The suitability of IPL also varies based on skin tones. For the Kenzzi IPL Handset, it is most effective for individuals with fair to warm tan skin tones. If you fall within the warm tan category, we recommend beginning at Intensity level 1 and conducting a patch test before your treatment. Regardless of your skin type, we recommend starting at Intensity level 1 and always performing a patch test when changing intensity levels. Your safety and comfort are our priorities.
Is the hair loss permanent?

You should see up to 80% hair removal following the scheduled treatment plan. When using your device, you are destroying hair follicles that are currently in the 'anagen' hair growth phase. It is possible that hairs that were not in the 'anagen' phase during treatment will still grow. This is why we recommend doing maintenance treatment once every 1-2 months as needed.
Is the treatment painful?

Unlike laser hair removal, IPL or intense pulsed light hair removal is generally considered to be much safer and less painful. This is because IPL uses a multi-spectrum bulb vs a single-wavelength laser. You may feel a slight tingle in sensitive areas during treatment, but it should not be painful.
What is the difference between IPL and Laser Hair Removal?

The main difference between IPL and laser is the type of light used. IPL or intense pulsed light, is a broadband pulsed light, whereas laser is a single monochromatic light source. IPL and laser technologies both target the melanin in the hair follicle and you can expect permanent results from both. Energy, frequency and hair color are all determining factors in the efficacy of the treatment, while the light source, whether it is a laser or an intense pulsed flash light plays a minor role.
How often do I need to use my KENZZI?

We recommend using your handset once a week for 12 weeks. Most customers begin to notice a reduction of hair after just 3-4 treatments, with complete results after 12 treatments.
Customer Reviews
Write a Review
Ask a Question
07/03/2020
Rukia K.

United Kingdom
So far so good!
My experience with the device has been good! I have to give the device a lil time to cool down sometimes when doing my legs, but it's been working well over the past few weeks and I've seen a major decrease in hair growth particularly on my face and Hollywood area!
07/02/2020
Saliha G.

Australia
It really works!
My family has a history of PCOS, all the women in my life have struggled with body hair and finding a solution. Given I have medium fair skin and very dark body hair, Kenzii worked really well for me. Started noticing reduction only after 3 uses especially in my arms and legs. Definitely worth every $$.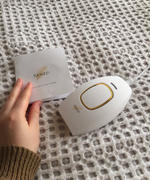 07/02/2020
Pashmina B.

United Kingdom
Grear product, really works!
I have pale skin and dark hair. I'm finding that kenzzi works brilliantly on fine hair, and takes more time with coarse hair. I saw results after 4/5 weeks and love it! Though warning, I burnt myself the first time and realised I had sensitive skin, so would advice starting on a lower setting x
06/30/2020
Yzabel

Canada
Impressed! Non sponsored, actual review!
Alright so first I'm going to say that this is not a fake review or sponsored review im just a girl from Canada who came across this product after seeing youtube reviews and decided to give it a go because I absolutely hate the hassle of shaving and then having to shave a day or two later because it grows back so fast! First off, I bought this to use it on my legs, armpits and full Brazilian. I'm pale skinned and get tanned during summer but my leg, armpit and Brazilian hairs are all dark. My arms and top half of my legs are blonde hairs so unfortunately this doesnt work on those areas but I didnt really mind because I shave those 3 areas the most! It did take about 3 weeks to recieve my kenzzi but understandable due to the delays from covid 19 but I was so stoked to recieve my laser machine! My first session was on June 4th and this Thursday July 2nd will be my 5th session. I know I havent completed the full 12 weeks but I am already seeing great results and a decrease in growth. From the 1st session I have always used level 5 on all areas and repeated 3 times over each part I'd laser. It's honestly very tolerable and not bad at all. The only place that pinches a bit more than others is on your lady bits but it's nothing us tough women cant handle! It's honestly not painful at all. I have noticed all my hairs in 3 areas are growing back slower.. (instead of shaving every day or 2 I can get away with 3 or 4 days) and in all areas the hair is thinner and finer and PATCHY! Which makes me so happy because it's working. The photo I posted along with this review is of my leg and you can 100% see the patchiness of where my hair isn't growing and where it still is and this goes for my armpits and full Brazilian as well! I'm very happy and impressed with this machine and what my results are after only 4 treatments and I cant wait to see my results after 12 weeks or more! I will say you HAVE to be consistent and take care of your skin. These are the things that I've been doing for best results.. - consistent with treatments once a week same day every week. - exfoliate and shave prior to treatment. - I dry brush 3-4 times weekly prior to showers. - moisturize after treatment - for best results use on level 5 and go over area 3 times. - they say not to tan but its mid summer and I love my summer tan so I'll do my treatment and wait 2 days to tan outdoors ( so my treatments are Thursday, so I'll allow myself to tan between saturday and tuesday and then let my skin rest before treatment on thursday again ) Also make sure not to sit out too long, do not burn! But if you dont like tanning then your good to go! Everyone's skin is different this is just my experience with loving to have a nice summer tan and still do my treatments during summer and I am still getting amazing results! I'd definitely recommend this product if you have fair to medium skin tones with darker hair! It does work and if you follow my steps for preparation you'll recieve great results! Happy lasering! Xo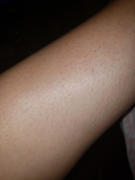 06/04/2020
Lisa R.

United States
Definitely doing something to the hair
Easy to use, no pain, definitely seeing reduction in hair - only shaving legs twice a week instead of daily after 10 weeks. Looking forward to seeing how things go with monthly maintenance.